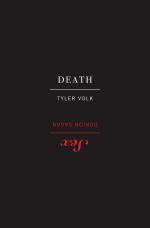 Like this book? Digg it!

Book Data
ISBN: 9781603581431
Year Added to Catalog: 2009
Book Format: Hardcover
Dimensions: 5 x 8
Number of Pages: 256
Book Publisher: Chelsea Green Publishing
Old ISBN: 160358143X
Release Date: October 17, 2009
Web Product ID: 472
Also in Sciencewriters & Science
"While New Orleans indeed boasts a streetcar named 'Desire,' returning in the other direction, as eventually it must, it runs, appropriately enough, to 'Cemetery,' circulating, like some great cosmic wheel of life and death, endlessly between the two. Eschewing the taboos that surround discussion of both Sex and Death, and transgressing the disciplinary boundaries between philosophical metaphysics and biochemistry, this volume manages to be, at once, both playfully iconoclastic, and technically informative. Indeed it exhibits the very rare capacity to popularize, without 'selling out' or oversimplifying an intellectually challenging analysis of various physiological, animal, social and metaphysical manifestations and implications of this cosmic wheel of life and death. Where else is one going to experience such from chance encounters with de Sade, Monty Python, Basho and Poincare?"

—Simon Glynn, Professor of Philosophy, Florida Atlantic University
Winner of the Bookbinders' Guild of New York 2009 Award for Best Nonfiction Hardcover!
Open the book one way, and read Tyler Volk's essay on DEATH . . .
What is shared by spawning Pacific salmon, towering trees, and suicidal bacteria? In his lucid and concise exploration of how and why things die, Tyler Volk explains the intriguing ways creatures—including ourselves—use death to actually enhance life. Death is not simply the end of the living, though even in that aspect the Grim Reaper has long been essential to natural selection. Indeed, the exquisite schemes and styles of death that have emerged from evolution have been essential to the great story from life's beginnings in tiny bacteria nearly four thousand million years ago to ancient human rituals surrounding death and continuing to the existential concerns of human culture and consciousness today. Volk weaves together autobiography, biology, Earth history, and results of fascinating studies that show how thoughts of our own mortality affect our everyday lives, to prove how an understanding of what some have called the ultimate taboo can enrich the celebration of life.
. . . then flip the book over to read Dorion Sagan's essay on SEX
In Sex, Dorion Sagan takes a delightful, irreverent, and informative romp through the science, philosophy, and literature of humanity's most obsessive subject. Have you ever wondered what the anatomy and promiscuous behaviors of chimpanzees and the sexual bullying of gorillas tell us about ourselves? Why we lost our hair? What amoebas have to do with desire? Linking evolutionary biology to salacious readings of the lives and thoughts of such notables as the Marquis de Sade and Simone de Beauvoir, and discussing works as varied as The Story of O and Silence of the Lambs, Sex touches on a potpourri of interrelated topics ranging from animal genitalia to sperm competition, the difference between nakedness and nudity, jealousy's status as an aphrodisiac and the origins of language, Casanova and music, ovulation and clothes, mother-in-law jokes and alpha females, love and loneliness. A brief, wonderfully entertaining, highly literate foray into the origins and evolution of sex.
Two books in one award-winning cover, Death & Sex unravel and answer some of life's most fundamental questions.