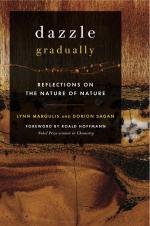 Like this book? Digg it!

Book Data
ISBN: 9781933392318
Year Added to Catalog: 2007
Book Format: Paperback
Number of Pages: 6 x 9, 392 pages
Book Publisher: Chelsea Green Publishing
Old ISBN: 1933392312
Release Date: May 16, 2007
Web Product ID: 163
Dazzle Gradually
Reflections on the Nature of Nature
Foreword by Roald Hoffman
"Margulis and Sagan continue to dazzle—much like the natural world they are describing. This is a wonderful collection of essays that breaks down false barriers and challenges the reader to rethink the very concepts of life, self, and change. Among the false dualisms that the authors attack is the very nature of writing itself. Written in neither dense, technical-academic prose nor some mere watered-down, populist version of science, Margulis and Sagan maintain their reputation for being able to bring the best of both worlds together—and in so doing show us that the dichotomy is to no one's advantage. Indeed, in many ways Dazzle Gradually is their finest work, both in that it brings together some of the authors' greatest contributions to and speculations on science, and in that they seamlessly move from autobiography to nature, from the personal to the transpersonal, with subtle humor, clear examples, and revolutionary thinking. Dazzle Gradually not only eloquently states the queries but has the courage to offer arguments that point toward answers as well. It is a remarkable book. A book that might just make a move toward resolving some of the big questions: questions concerning the birth of life, the origin of sex, the rise of death, and everything in between. Even raccoons in space."

—H. Peter Steeves, Ph.D., Associate Professor of Philosophy at DePaul University, and author of The Things Themselves
At the crossroads of philosophy and science.
At the crossroads of philosophy and science, the sometimes-dry topics of evolution and ecology come alive in this new collection of essays—many never before anthologized. Learn how technology may be a sort of second nature, how the systemic human fungus Candida albicans can lead to cravings for carrot cake and beer, how the presence of life may be why there's water on Earth, and many other fascinating facts.
The essay "Metametazoa" presents perspectives on biology in a philosophical context, demonstrating how the intellectual librarian, pornographer, and political agitator Georges Bataille was influenced by Russian mineralogist Vladimir Vernadsky and how this led to his notion of the absence of meaning in the face of the sun—which later influenced Jacques Derrida, thereby establishing a causal chain of influence from the hard sciences to topics as abstract as deconstruction and postmodernism.
In "Spirochetes Awake" the bizarre connection between syphilis and genius in the life of Friedrich Nietzsche is traced. The astonishing similarities of the Acquired-Immunity-Deficiency-Syndrome symptoms with those of chronic spirochete infection, it is argued, contrast sharply with the lack of evidence that "HIV is the cause of AIDS". Throughout these readings we are dazzled by the intimacy and necessity of relationships between us and our other planetmates. In our ignorance as "civilized" people we dismiss, disdain, and deny our kinship with the only productive life forms that sustain this living planet.
Sciencewriters Books Imprint
With the publication of Dazzle Gradually Chelsea Green adds to the newly launched Sciencewriters Books, a new imprint to develop outstanding works of science for the general public. Sciencewriters Books is codirected by Lynn Margulis and Dorion Sagan, founders of Sciencewriters, an educational partnership devoted to advancing science through fantastic and informative books, videos, and other media (www.sciencewriters.org). Blending exciting writing with depth of knowledge and dedication to scientific integrity, Sciencewriters Books will publish new and established authors on cutting-edge topics that are key to our survival.