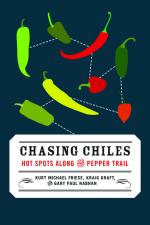 Like this book? Digg it!

Book Data
ISBN: 9781603582506
Year Added to Catalog: 2011
Book Format: Paperback
Dimensions: 6 x 9
Number of Pages: 224
Book Publisher: Chelsea Green
Release Date: March 4, 2011
Web Product ID: 601
Chasing Chiles
Hot Spots Along the Pepper Trail
"Chasing Chiles is truly one of the most inspiring and unique treatments of climate change in current literature. The book provides us with an entirely fresh and critical perspective on this contentious issue directly from farmers and chefs, focusing on one particular crop. And the proposed solution to this complex problem is both plain and prudent: "Eat and farm as if the earth matters, as we should have been doing all along."

—Frederick Kirschenmann, Distinguished Fellow, Leopold Center for Sustainable Agriculture, and President of Stone Barns Center for Food and Agriculture
2011 New Mexico Book Awards: Nonfiction, other
Listen to the Chasing Chiles authors on Marketplace by American Public Media!
Chasing Chiles looks at both the future of place-based foods and the effects of climate change on agriculture through the lens of the chile pepper—from the farmers who cultivate this iconic crop to the cuisines and cultural traditions in which peppers play a huge role.

Why chile peppers? Both a spice and a vegetable, chile peppers have captivated imaginations and taste buds for thousands of years. Native to Mesoamerica and the New World, chiles are currently grown on every continent, since their relatively recent introduction to Europe (in the early 1500s via Christopher Columbus). Chiles are delicious, dynamic, and very diverse—they have been rapidly adopted, adapted, and assimilated into numerous world cuisines, and while malleable to a degree, certain heirloom varieties are deeply tied to place and culture—but now accelerating climate change may be scrambling their terroir.

Over a year-long journey, three pepper-loving gastronauts—an agroecologist, a chef, and an ethnobotanist—set out to find the real stories of America's rarest heirloom chile varieties, and learn about the changing climate from farmers and other people who live by the pepper, and who, lately, have been adapting to shifting growing conditions and weather patterns. They put a face on an issue that has been made far too abstract for our own good.

Chasing Chiles is not your archetypal book about climate change, with facts and computer models delivered by a distant narrator. On the contrary, these three dedicated chileheads look and listen, sit down to eat, and get stories and recipes from on the ground—in farmers' fields, local cafes, and the desert-scrub hillsides across North America. From the Sonoran Desert to Santa Fe and St. Augustine (the two oldest cities in the US), from the marshes of Avery Island in Cajun Louisiana to the thin limestone soils of the Yucatan, this book looks at how and why climate change will continue to affect our palates and our producers, and how it already has.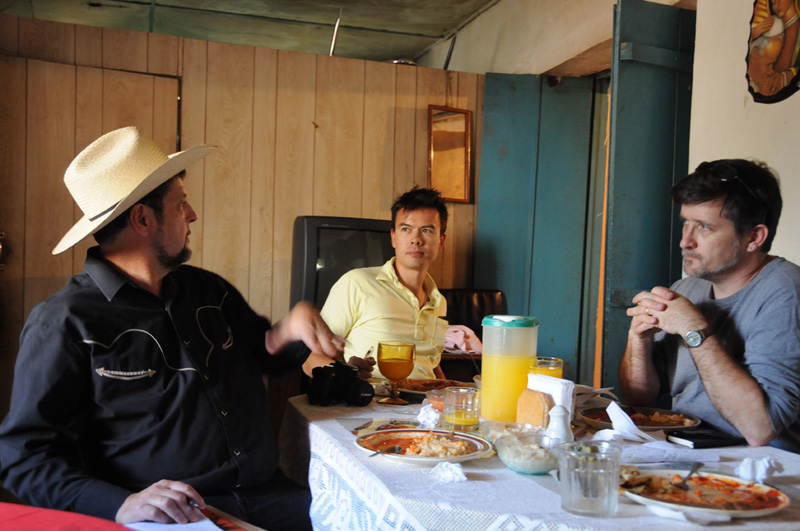 From Left: Gary Paul Nabhan, Kraig Kraft, and Kurt Michael Friese