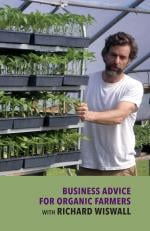 Like this book? Digg it!

Book Data
ISBN: 9781603582452
Year Added to Catalog: 2012
Book Format: DVD
Dimensions: 6 x 9
Number of Pages: 122 Minutes
Book Publisher: Chelsea Green Publishing
Release Date: June 1, 2012
Web Product ID: 650
Business Advice for Organic Farmers DVD
Upcoming Author Events
HILLSBOROUGH, NJ

November 8, 2014, 9:00 amRichard Wiswall at NOFA NJ

Duke Farms Coach Barn Duke Parkway East 80 US Highway 206, Hillsborough NJ 08844

Richard Wiswall, author of The Organic Farmer's Business Handbook, will be giving this full day, intensive Business of Farming workshop. Richard will teach a full day of workshops with special tips discussed specifically for beginning farmers, however, seasoned farmers will have lots to learn as well.

GREENVILLE, SC

November 10, 2014, 1:00 pmRichard Wiswall at Carolina Farm Stewards Association Annual Conference

CFSA Conference, Greenville SC

$45 Members, $60 Non-Members Presenter: Richard Wiswall, owner operator of Cate Farm and author of The Organic Farmer's Business Handbook- A Complete guide to Managing Finances, Crops, and Staff- and Making a Profit Find out your farm's profit centers – which parts of your farm make the most money and which may actually lose money. Learn about efficient farm planning and analysis, how to determine your costs of production for various farm enterprises, and how to figure the cost/benefit analysis and payback period when purchasing tools and machinery. Set aside the afternoon to finally work on these and other important farm business concerns. The workshop will address: 1) Planning for Profit: a step-by-step guide to increase your net profit; 2) Making a Profit on YOUR farm: what is making money and what isn't; 3) Your marketing strategies and 4) Quick business fixes.

POCANTICO HILLS, NY

December 5, 2014, 12:00 pm

Richard Wiswall at Young Farmers Conference

Stone Barns Center , Pocantico Hills NY

More details to come...

PROVIDENCE, RI

December 6, 2014, 12:00 pm

Richard Wiswall at Young Farmers Network

Young Farmers Network, Providence RI

UNITY, ME

February 1, 2015, 12:00 pm

Richard Wiswall at MOFGA

MOFGA, Unity ME

Richard Wiswall will tach a business workshop for MOFGA on February 1-3, 2015. More details to come.

Online for US Orders Only
International orders can be placed by phone (802-295-6300) or email
Additional Information
Richard Wiswall's Upcoming Events
Richard Wiswall at NOFA NJ


Duke Farms Coach Barn Duke Parkway East 80 US Highway 206, Hillsborough NJ 08844

November 8, 2014, 9:00 am

Richard Wiswall at Carolina Farm Stewards Association Annual Conference


CFSA Conference, Greenville SC

November 10, 2014, 1:00 pm

Richard Wiswall at Young Farmers Conference


Stone Barns Center , Pocantico Hills NY

December 5, 2014, 12:00 pm

Richard Wiswall at Young Farmers Network


Young Farmers Network, Providence RI

December 6, 2014, 12:00 pm

Richard Wiswall at MOFGA


MOFGA, Unity ME

February 1, 2015, 12:00 pm