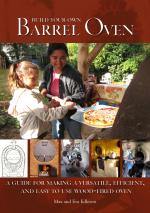 Like this book? Digg it!

Book Data
ISBN: 9780967984698
Year Added to Catalog: 2012
Book Format: Paperback
Book Art: Full-Color Throughout
Dimensions: 7 x 10
Number of Pages: 100
Book Publisher: Hand Print Press
Release Date: October 31, 2012
Web Product ID: 713
Build Your Own Barrel Oven
A Guide for Making a Versatile, Efficient, and Easy to Use Wood-Fired Oven
"Max and Eva Edleson offer up this barrel oven as a marriage of native, natural materials with industrial "waste." The result is a beautiful and useful appliance that combines the appeal and advantages of wood fire with the quick heat of an American industrialized kitchen. 'What?! A wood-fired oven that can bake bread 20 minutes after you light the fire?' Yup. And it can be cheap, too, especially if you can do simple metal work yourself. And your kids can help you do the mud work. The more people get interested in wood-fired cooking, sustainability, and traditional ways of eating, the more important it is to have options, examples, and choices. Here's a great contribution for back-yard bakers serving family and friends, primitive out-back chefs cooking for large groups and gatherings, or a small, wood-fired business in need of a versatile oven. Good stuff!"

—Kiko Denzer, author, Build Your Own Earth Oven: A Low-Cost, Wood-Fired Mud Oven, Simple Sourdough Bread, Perfect Loaves
The tools for a sustainable future continue to grow! In this book, Max and Eva Edleson offer a comprehensive guide for planning and building a practical, efficient and affordable wood-fired oven. The barrel oven offers surprising convenience because it is hot and ready to bake in within 15-20 minutes and is easy to maintain at a constant temperature.
It can be the seed for a small-scale baking enterprise or the heart of a community's wood-fired cuisine. All kinds of food can be baked in the barrel oven including bread, roasts, pizza, cookies cakes, pies, casseroles and stews. Follow this step-by-step guide to transform local, low-cost materials and the sun's energy into good food.