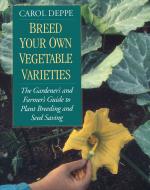 Like this book? Digg it!

Book Data
ISBN: 9781890132729
Year Added to Catalog: 2000
Book Format: Paperback
Book Art: appendices, glossary, bibliography, index
Number of Pages: 7 1/2 x 9 1/4, 384 pages
Book Publisher: Chelsea Green Publishing
Old ISBN: 1890132721
Release Date: October 1, 2000
Web Product ID: 216
Breed Your Own Vegetable Varieties
The Gardener's and Farmer's Guide to Plant Breeding and Seed Saving
Upcoming Author Events
EUGENE, OR

January 24, 2015, 10:30 am

Carol Deppe at the Eugene Good Earth Home and Garden Show

Good Earth Home and Garden Show, Eugene OR

Carol Deppe will present five workshops at the Eugene Good Earth Home and Garden Show on January 24. The schedule for her workshops is as follows: 10:30 a.m. Grow the Best Tomatoes. Varieties that taste great in spite of cool weather, cold nights, and shade. Starting, growing, harvesting. Dealing with late blight. Why the best-flavored tomato may not be the one that is picked vine-ripe. Saving tomato seed. 11:30 a.m. Grow Your Own Cornbread, Polenta, and (All-Corn) Pancakes. Flint corn varieties for cornbread and polenta. Flour corn varieties for cornbread, pancakes, cakes, and gravy. Growing, harvesting, shelling, storing, grinding, using. 12:30 p.m. Growing the Best Winter Squash and Pumpkins. Choosing varieties. Growing, harvesting, curing to perfection, storing, using. 1:30 p.m. Gardening in an Era of Wild Weather and Climate Change. 2:30 p.m. The Eat-All Greens Garden. A new method that allows a family to raise all the greens it needs for summer eating and freezing for winter in even a tiny garden. The no-labor garden—just sow and harvest. Growing, harvesting, handling, freezing, drying, and using eat-all greens. Eleven great eat-all greens varieties. Books will be available for sale and signing at the event.