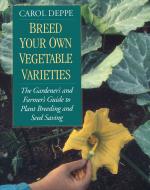 Like this book? Digg it!

Book Data
ISBN: 9781890132729
Year Added to Catalog: 2000
Book Format: Paperback
Book Art: appendices, glossary, bibliography, index
Number of Pages: 7 1/2 x 9 1/4, 384 pages
Book Publisher: Chelsea Green Publishing
Old ISBN: 1890132721
Release Date: October 1, 2000
Web Product ID: 216
Breed Your Own Vegetable Varieties
The Gardener's and Farmer's Guide to Plant Breeding and Seed Saving
Upcoming Author Events
ALBANY, OR

June 6, 2015, 9:00 amCarol Deppe at Oregon Mother Earth News Fair

3700 Knox Butte Rd E, Albany OR 97322

Carol Deppe will lead several workshops at the Mother Earth News Fair in Albany, Oregon from June 6-7th. Workshop topics will include the eat-all greens garden, the do-it-yourself seed bank, gardening and farming with climate change, and growing your own cornbread, polenta and other corn-based baked goods.

EUGENE, OR

August 28, 2015, 9:30 amCarol Deppe at NW Permaculture Convergence

1400 Lake Drive, Eugene OR 97401

Carol Deppe will speak at the NW Permaculture Convergence on August 28-30 at the River Road Park District Recreation Center in Eugene. Carol's books will be available for sale and signing at the event.