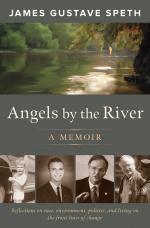 Like this book? Digg it!

Book Data
ISBN: 9781603585859
Year Added to Catalog: 2014
Book Format: Hardcover
Dimensions: 5.5 x 8.5
Number of Pages: 224
Book Publisher: Chelsea Green
Release Date: October 21, 2014
Web Product ID: 829
Angels by the River
A Memoir
Upcoming Author Events
NEW HAVEN, CT

November 8, 2014, 5:00 pm

Gus Speth at Thomas Berry Award Ceremony

Yale Divinity School, Yale University, New Haven CT

November 23, 2014, 5:00 pm

Gus Speth on Firedoglake Book Salon

Firedoglake Book Salon ,

Gus Speth will answer questions about his new memoir, "Angels by the River," on Firedoglake's Book Salon on November 23rd from 5-7:00 PM.

KEENE, NH

December 5, 2014, 11:30 am

Gus Speth at Antioch University New England

Antioch University New England, Keene NH

Gus Speth will speak at the Antioch University on December 5 as part of their Environmental Studies Colloquium. The lecture will take place from 11:30 to 12:30. Books will be available for sale and signing at the event.

LAKE FOREST, IL

March 17, 2015, 7:30 pmGus Speth at Lake Forest College

555 North Sheridan Road, Lake Forest IL 60045

Gus Speth, this year's 2015 Ruth Winter Lecturer, will discuss the need for a new global environmentalism in his talk "Environmental Renaissance: The Need for Something New." This free and public event is on March 17, 2015 at 7:30 p.m. in the Lily Reid Holt Memorial Chapel.

Online for US Orders Only
International orders can be placed by phone (802-295-6300) or email
Additional Information
James Gustave Speth's Upcoming Events
Gus Speth at Thomas Berry Award Ceremony


Yale Divinity School, Yale University, New Haven CT

November 8, 2014, 5:00 pm

Gus Speth on Firedoglake Book Salon


Firedoglake Book Salon ,

November 23, 2014, 5:00 pm

Gus Speth at Antioch University New England


Antioch University New England, Keene NH

December 5, 2014, 11:30 am

Gus Speth at Lake Forest College


555 North Sheridan Road, Lake Forest IL 60045

March 17, 2015, 7:30 pm