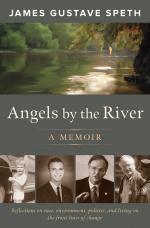 Like this book? Digg it!

Book Data
ISBN: 9781603585859
Year Added to Catalog: 2014
Book Format: Hardcover
Dimensions: 5.5 x 8.5
Number of Pages: 224
Book Publisher: Chelsea Green
Release Date: October 10, 2014
Web Product ID: 829
Also in Nature & Environment
Angels by the River
A Memoir
"You will not soon read a better or more instructive memoir—a profoundly wise reflection on a life dedicated to solving the largest challenges of our time written by an insider who grew into a radical in the best sense of the word."

—David W. Orr, counselor to the president of Oberlin College, and Steven Minter Fellow, the Cleveland Foundation
Reflections on race, environment, politics, and living on the front lines of change
In Angels by the River, James Gustave "Gus" Speth recounts his unlikely path from a southern boyhood through his years as one of the nation's most influential mainstream environmentalists and eventually to the system­-changing activism that shapes his current work.
Born and raised in a lovely but racially divided town that later became the scene of South Carolina's horrific Orangeburg Massacre, Speth explores how the civil rights movement and the South's agrarian roots shaped his later work in the heyday of the environmental movement, when he founded two landmark environmental groups, fought for the nation's toughest environmental laws, spearheaded programs in the United Nations, advised the White House, and moved into a leading academic role as dean of Yale's prestigious School of Forestry and Environmental Studies. Yet, in the end, he arrived somewhere quite unexpected—still believing change is possible, but not within the current political and economic system.
Throughout this compelling memoir, Speth intertwines three stories—his own, his hometown's, and his country's—focusing mainly on his early years and the lessons he drew from them, and his later years, in which he comes full circle in applying those lessons. In the process he invites others to join him politically at or near the place at which he has arrived, wherever they may have started.

Online for US Orders Only
International orders can be placed by phone (802-295-6300) or email
Additional Information
James Gustave Speth's Upcoming Events
Gus Speth at the Norwich Bookstore


Norwich Square, 291 Main Street, Norwich VT

October 22, 2014, 7:00 pm

Gus Speth at Yale Law School Lunch


Yale Law School, room TBD, New Haven CT

October 27, 2014, 12:15 pm

Gus Speth at Yale University


Yale University, New Haven CT

October 27, 2014, 4:00 pm

Gus Speth at Yale Law School Library Lecture Series


Yale Law School, room TBD, New Haven CT

October 27, 2014, 6:00 pm

Gus Speth at Antioch University New England


Antioch University New England, Keene NH

December 5, 2014, 11:30 am