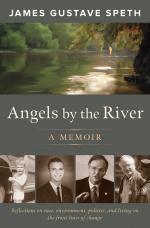 Like this book? Digg it!

Book Data
ISBN: 9781603585859
Year Added to Catalog: 2014
Book Format: Hardcover
Dimensions: 5.5 x 8.5
Number of Pages: 224
Book Publisher: Chelsea Green
Release Date: October 21, 2014
Web Product ID: 829
Also in Nature & Environment
Angels by the River
A Memoir
"A longtime friend and ally, Gus Speth is a tireless advocate for the environment. His accumulated stories and knowledge, the kind that could only come from decades of experience at the highest levels, provide a unique and insightful look into our history, and the way forward from here."

—Al Gore, former vice president of the United States
Reflections on race, environment, politics, and living on the front lines of change
Angels by the River follows James Gustave Speth's unlikely path—from a Southern boyhood to his career as an influential mainstream environmentalist to his current system-changing activism.
In this compelling memoir, Speth explores the issues, and realities, that have shaped the nation since the 1950s, and that turned an "ultimate insider" into someone willing to be arrested in front of the White House.
Born and raised in a town where both the best and worst of the South shone through—a town that eventually became the scene of South Carolina's horrific Orangeburg Massacre—Speth explores how the civil rights movement and the South's agrarian roots influenced his academic career at Yale and later work in the heyday of the environmental movement, when he helped launch two landmark and influential environmental groups—the Natural Resources Defense Council and the World Resources Institute—advise the White House on climate and other emerging issues, and lead the UN's development efforts around the globe.
Speth fought to create and uphold the nation's toughest environmental laws, but now believes a new environmentalism is needed to confront today's challenges. The advancing climate crisis cannot be addressed, he warns, as long as we remain fixated on endless growth and consumption, corporate profits, increasing the incomes of the well-to-do, neglecting those just getting by, and helping abroad only modestly.
An American tale, in all its complexity, Speth's memoir is an inspiration—especially for readers contemplating how to make a difference in an increasingly complex world.

Online for US Orders Only
International orders can be placed by phone (802-295-6300) or email
Additional Information
James Gustave Speth's Upcoming Events
Gus Speth at Yale Law School Lunch


Yale Law School, room TBD, New Haven CT

October 27, 2014, 12:15 pm

Gus Speth at Yale University


Yale University, New Haven CT

October 27, 2014, 4:00 pm

Gus Speth at Yale Law School Library Lecture Series


Yale Law School, room TBD, New Haven CT

October 27, 2014, 6:00 pm

Gus Speth at Institute for Policy Studies


1112 16th St NW #600, , Washington, DC 20036

October 30, 2014, 4:00 pm

Gus Speth at Thomas Berry Award Ceremony


Yale Divinity School, Yale University, New Haven CT

November 8, 2014, 5:00 pm