Peace Delegation Photos and Video
Global Exchange Code Pink Peace Delegation - Amman Jordan
Watch the PowerPoint presentation of Code Pink and Diane Wilson's trip to Amman Jordan in August of 2006.
The video contains:
Listening to Iraqis
Americans don't know whom to believe.
We Americans could start caring more about the Iraqis want rather than what the Bush Administration wants.
What do Iraqis want?
Let's listen directly to the Iraqis.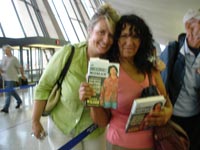 Dulles Airport, Washington, D.C.
August 2, 2006
Chelsea Green Publicity Director Alice Blackmer sees Diane off at Dulles airport. The CodePink delegation flew from D.C. to Paris to Amman Jordan where they met with members of Iraq's Parliament to discuss the peace plans drawn up by the Parliament.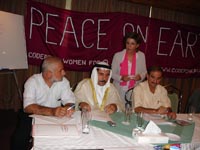 Amman, Jordan
August 3, 2006
The CodePink group met with these four parliamentarians on their first day in Amman. They represented independents in the Parliament.
Amman, Jordan
August 4, 2006
This Parliamentarian enjoys a cigarette and a laugh during a break in the talks.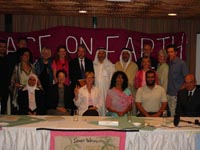 Amman, Jordan
August 4, 2006
At the close of their press conference, the CodePink delegation poses with Iraqi Parliamentarians. The American delegation met with the Iraqi Parliament members to talk about the Iraqi's plans for peace.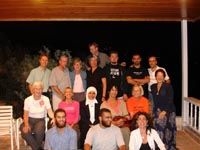 Jordan
August 5, 2006
Delegation members visited the farmhouse of an Iraqi family who fled to Jordan as the violence escalated in Iraq.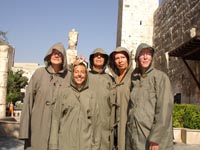 Jordan
Several CodePink women (Diane at center) visited a mosque in Jordan. They had to be fully covered to get in.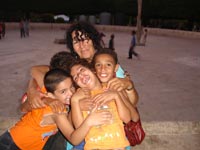 Beirut, Lebanon
Four women from the CodePink group went to Lebanon after their meetings in Jordan. Diane is pictured here with children from one of the open-air refugee camps in Beirut. The children loved to have their picture taken.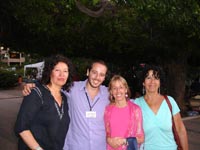 Beirut, Lebanon
The CodePink women (Diane at right) spent some time at the refugee camp that housed about 1000 people in a park in Beirut. The man pictured with them was the camp organizer.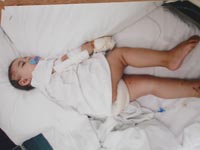 Beirut, Lebanon
This baby was injured by a bomb in Beirut.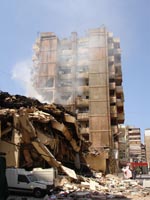 Beirut, Lebanon
While surveying the damage in Beirut, Diane came upon this building that was still smoldering.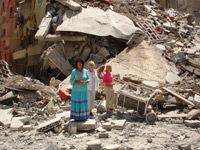 Beirut, Lebanon
Diane stands among the rubble of Beirut with other CodePink women.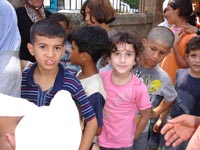 Beirut, Lebanon
Diane helped hand out ice cream to children in the refugee camp. These children were waiting patiently in line for their cone. Diane says it was the last orderly thing they did all day.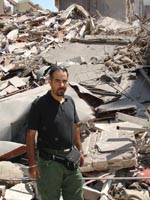 Beirut, Lebanon
This man who had just lost his business in an early-morning bombing when Diane came upon him in this pile of rubble.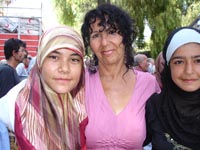 Beirut, Lebanon
Diane with teenage girls from the refugee camp.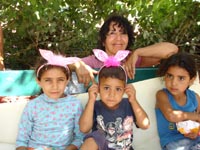 Beirut, Lebanon
Diane with more children from the refugee camp.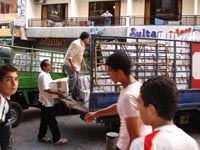 Beirut, Lebanon
On August 12, Diane accompanied a convoy of 52 vehicles traveling to southern Lebanon with relief supplies. Here they are collecting and loading supplies.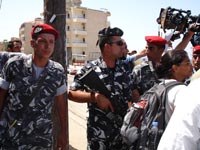 Southern, Lebanon
A day after a UN felief convoy was attacked on its way into southern Lebanon, the 52-vehicle convoy Diane participated in tried to get through, but Lebanese soldiers stopped them. They refused to let the convoy continue and forced them to return to Beirut.