An Unreasonable Woman
A True Story of Shrimpers, Politicos, Polluters, and the Fight for Seadrift, Texas
Foreword by Kenny Ausubel
Don't pick this book up if you want to stay in your comfort zone. Diane's journey is a riveting tale of "Nothing Is As It Appears." The environmental agencies we're so proud of simply give out permits to polluters, tweaking a detail here and there. With spunk, verve, and humor, Diane faces down her fears. This story will break your heart wide open.

—Ellen Augustine Schwartz, author of Taking Back Our Lives in the Age of Corporate Dominance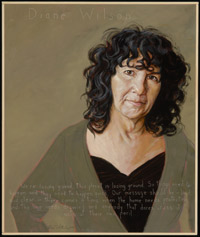 Portrait by Robert Shetterly, from his portrait series Americans Who Tell the Truth.
When Diane Wilson, fourth-generation shrimp-boat captain and mother of five, learns that she lives in the most polluted county in the United States, she decides to fight back. She launches a campaign against a multibillion-dollar corporation that has been covering up spills, silencing workers, flouting the EPA, and dumping lethal ethylene dichloride and vinyl chloride into the bays along her beloved Texas Gulf Coast.
In an epic tale of bravery, Wilson takes her fight to the courts, to the gates of the chemical plant, and to the halls of power in Austin. Along the way she meets with scorn, bribery, character assassination, and death threats. Finally Wilson realizes that she must break the law to win justice: She resorts to nonviolent disobedience, direct action, and hunger strikes.
Wilson's vivid South Texas dialogue resides somewhere between Alice Walker and William Faulkner, and her dazzling prose brings to mind the magic realism of Gabriel Garcia Marquez, replete with dreams and prophecies.
Molly Bang tells Diane's story in graphic novel
Acclaimed graphic artist Molly Bang brings Diane Wilson's story to life in striking pictures. A vivid companion to An Unreasonable Woman
Nobody Particular is the true story of Diane's fight. It is the story of how one woman—who was, as she says, "nobody particular"—succeeded in forcing a huge corporation to change its plans, adopt more environmental safeguards, and agree to protect her precious bays.
About the Author
Award-winning artist and author Molly Bang has written and illustrated more than twenty books for young people, including Common Ground: The Water, Earth, and Air We Share, winner of the Giverny Prize for Best Children's Science Picture Book. She and her husband split their time between Falmouth, Massachusetts, and San Francisco, California.
Read Molly Bang's piece "Why Is This Patriot in Jail?" about Diane's current jail term.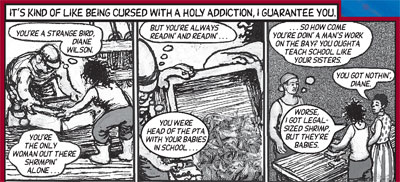 CODEPINK has been a source of strength and support for Diane Wilson since she helped found it. A women-initiated grassroots peace and social justice movement, CODEPINK seeks positive social change through proactive, creative protest and nonviolent direct action. Diane has an essay titled "The Art of Misbehavin'" in CODEPINK's book Stop the Next War Now.