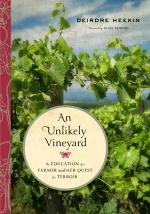 Like this book? Digg it!

Book Data
ISBN: 9781603584579
Year Added to Catalog: 2014
Book Format: Hardcover
Book Art: Full Color
Dimensions: 7 x 10
Number of Pages: 384
Book Publisher: Chelsea Green
Release Date: October 17, 2014
Web Product ID: 808
Also in Gardening & Agriculture
An Unlikely Vineyard
The Education of a Farmer and Her Quest for Terroir
Foreword by Alice Feiring
"Not only does Deirdre Heekin take us on her own, personal path to this 'unlikely vineyard,' but she also offers us—as a vigneronne—the chance to understand something more universal: that authentic wine, with soul, can be crafted if one observes and takes care of one's terroir and vines. By choosing a most demanding yet most rewarding way of farming—the biodynamic way in Vermont—she is an inspiration both for farmers and for every wine lover who seeks in the taste of a grape a place, a landscape, a climate, a history."

—Pascaline Lepeltier, master sommelier, Rouge Tomate, New York City
Is it possible to capture landscape in a bottle? To express the essence of place—the geology, geography, climate, and soil—as well as the skill of the wine-grower? That's exactly what Deirdre Heekin and her husband set out to do on their tiny, eight-­acre hillside farm in south-­central Vermont. Challenged by cold winters, wet summers, and other factors, they set about to grow not only a vineyard, but an orchard of heirloom apples, pears, and plums, as well as gardens filled with vegetables, herbs, roses, and wildflowers destined for their own table and for the kitchen of their small restaurant. They wanted to create, or rediscover, a sense of place, and to grow food naturally using the philosophy and techniques of organics, permaculture, and biodynamic farming. Having traveled and lived in France and Italy, and finding so much respect for place­based traditions, they were sure it would be possible to recreate that lifestyle, and to explore "the notion that life can be lived in both work and play, in a way that offers an honest sustenance."
An Unlikely Vineyard tells the story of their farm and its evolution, from overgrown fields to a fertile, productive, and beautiful landscape that melds with its natural environment. But the book is much more than that. It also presents, through the example of their farming journey and winegrowing endeavors, an impressive amount of information on how to think about almost every aspect of gardening: from composting to trellising; from cider and perry making to old garden roses; from pruning (or not) to dealing naturally with pests and diseases. Accompanied throughout by lush photos, this gentle narrative will appeal to anyone who loves food, farms, and living well.