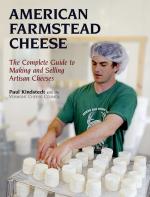 Like this book? Digg it!

Book Data
ISBN: 9781931498777
Year Added to Catalog: 2005
Book Format: Hardcover
Book Art: charts, graphs, illustrations, resources, index
Number of Pages: 7 x 10 300 pages
Book Publisher: Chelsea Green Publishing
Old ISBN: 1931498776
Release Date: May 19, 2005
Web Product ID: 85
American Farmstead Cheese
The Complete Guide to Making and Selling Artisan Cheeses
"This is a must have for anyone who is a cheesemaker, cheesemonger, or simply a cheese lover. Encompassing everything from the finer points of artisanal affinage to the historical significance of cheese in society, this book has it all. Mr. Kindstedt certainly knows his curd!"

—Terrance Brennan, The Artisanal Group
This comprehensive guide to farmstead cheese explains the diversity of cheeses in terms of historical animal husbandry, pastures, climate, preservation, and transport-all of which still contribute to the uniqueness of farm cheeses today.
Discover the composition of milk (and its seasonal variations), starter cultures, and the chemistry of cheese. The book includes:
A fully illustrated guide to basic cheesemaking
Discussions on the effects of calcium, pH, salt, and moisture on the process
Ways to ensure safety and quality through sampling and risk reduction
Methods for analyzing the resulting composition
You will meet artisan cheesemaker Peter Dixon, who will remind you of the creative spirit of nature as he shares his own process for cheesemaking. Alison Hooper, cofounder of Vermont Butter & Cheese Company, shares her experience-both the mistakes and the successes-to guide you in your own business adventure with cheese. David and Cindy Major, owners of Vermont Shepherd, a sheep dairy and cheese business, tell the story of their farm and business from rocky beginning to successful end.