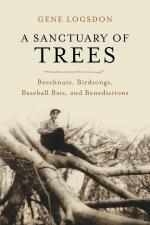 Like this book? Digg it!

Book Data
ISBN: 9781603584012
Year Added to Catalog: 2011
Book Format: Paperback
Book Art: 8-page color insert
Dimensions: 6 x 9
Number of Pages: 248
Book Publisher: Chelsea Green
Release Date: March 28, 2012
Web Product ID: 666
A Sanctuary of Trees
Beechnuts, Birdsongs, Baseball Bats, and Benedictions
"Gene Logsdon does it again! This time he is out past the gardens, beyond the meadows, and deep into the groves and woodlots he has known and loved. What he brings back is a lover's report on a life-long affair of his. He is still contrary, thank goodness, more respectful of forests than of forestry; but A Sanctuary of Trees is a wonderfully woodsy book, neatly wrapped around a personal memoir. Reading it, we watch Logsdon casually learn about sassafras, chain saws, mistletoe, log houses, cordwood, birdsong, and a hundred other bits of vital forest lore. In private life he may be a tree hugger, and this narrative is seductive enough so that any thoughtful reader will probably develop similar symptoms."

—Ronald Jager, author of Eighty Acres, Last House on the Road, and The Fate of Family Farming
As author Gene Logsdon puts it, "We are all tree huggers." But not just for sentimental or even environmental reasons. Humans have always depended on trees for our food, shelter, livelihood, and safety. In many ways, despite the Grimm's fairy-tale version of the dark, menacing forest, most people still hold a deep cultural love of woodland settings, and feel right at home in the woods.
In this latest book, A Sanctuary of Trees, Logsdon offers a loving tribute to the woods, tracing the roots of his own home groves in Ohio back to the Native Americans and revealing his own history and experiences living in many locations, each of which was different, yet inextricably linked with trees and the natural world. Whether as an adolescent studying at a seminary or as a journalist living just outside Philadelphia's city limits, Gene has always lived and worked close to the woods, and his curiosity and keen sense of observation have taught him valuable lessons about a wide variety of trees: their distinct characteristics and the multiple benefits and uses they have. In addition to imparting many fascinating practical details of woods wisdom, A Sanctuary of Trees is infused with a philosophy and descriptive lyricism that is born from the author's passionate and lifelong relationship with nature:
There is a point at which the tree shudders before it begins its descent. Then slowly it tips, picks up speed, often with a kind of wailing death cry from rending wood fibers, and hits the ground with a whump that literally shakes the earth underfoot. The air, in the aftermath, seems to shimmy and shiver, as if saturated with static electricity. Then follows an eerie silence, the absolute end to a very long life.
Fitting squarely into the long and proud tradition of American nature writing, A Sanctuary of Trees also reflects Gene Logsdon's unique personality and perspective, which have marked him over the course of his two dozen previous books as the authentic voice of rural life and traditions.