Chelsea Green authors give you plenty of reasons "why" you should live more simply, sustainably and resiliently. But, readers return to our books year after year because they are also practical — filled with information culled from years of an author's hands-on experience. Our authors guide you through the "hows" of living in concert with the natural world — sometimes through cutting-edge techniques and other times using timeless traditions — in a way that helps you become your own expert too.
In honor of this tradition, we've gathered a selection of inspired and unique projects from our books and put them on sale. Learn how to start a batch of wild sourdough, save tomato seeds, build an outdoor shower heated by the sun or rethink your personal finances to keep your money safe from the global banking system.
Happy reading from the folks at Chelsea Green Publishing.
FERMENT-IT-YOURSELF: Start a batch of sourdough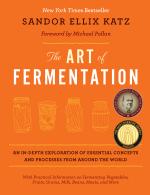 [1]
Retail Price: $39.95
Sale Price: $25.97
Sourdough is a mixed culture starter for rising bread (as well as many other culinary applications).
Want
to start your own sourdough and keep it healthy? In The Art of Fermentation you'll find tips for
this
and much, much more.
All you need to start a sourdough is flour and dechlorinated water. Maintaining it takes a little care and attention, but with Katz as your guide you'll be catching wild yeasts in no time. FIND OUT HOW… [2]
Sandor Katz presents the concepts and processes behind fermentation in ways that are simple enough to guide a reader through their first experience making sauerkraut or yogurt, and in-depth enough to provide greater understanding and insight for experienced practitioners.
GARDEN TIP: How to save tomato seeds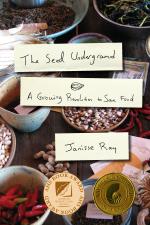 [3]
Retail Price: $17.95
Sale Price: $11.67
There's a trick to saving tomato seeds, trapped as they are in the juicy, gooey flesh of the tomato. But it's not hard to do, and if you save seeds from varieties you love you'll be joining in the front lines of the latest food revolution
Along with charming profiles of radical seed-savers, the book has practical tips. LEARN HOW TO SAVE TOMATO SEEDS… [4]
In The Seed Underground, Janisse Ray's latest work of literary nonfiction, the award-winning author and activist argues that if we are to secure the future of food, we first must understand where it all begins: the seed.
RECIPE: Bake a loaf of lavender bread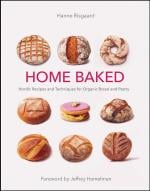 [5]
Retail Price: $39.95
Sale Price: $25.97
If you're tired of the same old wheat bread, Home Baked will offer you some exciting new recipes, like fragrant lavender bread, and teach you to work with different grains.
Take a look at two receipes (Hanne's Lemon Pie and Lavender Bread) HERE….
[6]
With enticing, full-color photographs throughout, Home Baked offers recipes and techniques for baking artisan bread and pastry using organic, nutrient-rich grain and stone-milled flour.
DIY PROJECT: Make a self-watering planter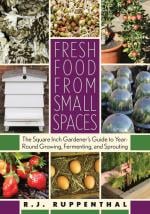 [7]
Retail Price: $24.95
Sale Price: $16.22
You can grow many different crops on your balcony, or in a sunny spot indoors using self-watering planters. Even better yet, it doesn't have to cost you (much). Take a lookt at this great weekend project to make your own self-watering growing container (on a bookstrap budget). Learn how HERE… [8]
A comprehensive "how-to" guide for growing fresh food in the absence of open land, Fresh Food from Small Spaces can teach you how to make some — and much more. The book is a practical, comprehensive, and fun guide to growing food in containers and other small spaces.
ORGANIC GARDENING 101: A crash course in composting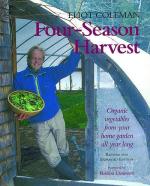 [9]
Retail Price: $24.95
Sale Price: $16.22
The first step in
year-round organic gardening
is learning to make good compost. It will form a strong foundation for whatever you choose to grow in your greenhouses and cold frames.
Get started with a good foundation 
by building
 nutrient-rich compost for your plants. FIND OUT HOW… [10]
This tip comes from Eliot Coleman's classic Four-Season Harvest. If you love the joys of eating home-garden vegetables but always thought those joys had to stop at the end of summer, this book is for you.
HOW TO: Build a simple solar shower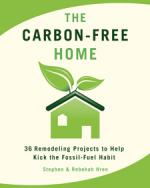 Retail Price: $35.00
Sale Price: $22.75
If you can't beat summer's heat, you might as well join it! Build a solar shower and enjoy the sun's warmth in a whole new way
. 
Try this easy-to-build, inexpensive solar shower. FIND OUT HOW… [11]
This is just one of the great ideas in The Carbon-Free Home. The energy used in your home produces more global-warming pollution than your car. But there are plenty of simple things you can do to reduce your home's reliance on fossil fuels.
Read this book—then grab your handsaw, tape measure, and drill, and get started! A life powered by the sun is waiting for you. Meant as a guide for renovating existing homes, The Carbon-Free Home gives you the hands-on knowledge necessary to turn your existing house into an environmental asset.
PERMACULTURE TIPS: A guide to gardening with chickens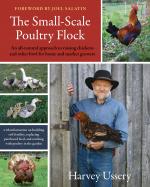 [12]
Retail Price: $39.95
Sale Price: $25.97
With a few careful considerations to protect your crops, chickens can help out in the garden — and Harvey Ussery can help you figure it out. 
Put those hens to work in your compost pile! 
FIND OUT HOW…
[13]
His book, The Small-Scale Poultry Flock, is the most comprehensive and definitive guide to date on raising all-natural poultry for the homesteader and small farmer.
No other book on raising poultry takes an entirely whole-systems approach, or discusses producing homegrown feed and breeding in such detail—it is truly an invaluable and groundbreaking guide that will lead farmers and homesteaders into a new world of self-reliance and enjoyment.
BE PREPARED: A list of what you need to survive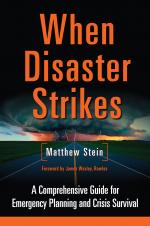 [14]
Retail Price: $24.95
Sale Price: $16.22
If you're prepared for the worst, it won't be so bad: put together a 72-hour survival kit today. 
This simple guide will help ensure you're ready for the unexpected. 
GET STARTED…
[15]
Disasters often strike without warning and leave a trail of destruction in their wake. Yet armed with the right tools and information, survivors can fend for themselves and get through even the toughest circumstances. Matthew Stein's When Disaster Strikes provides a thorough, practical guide for how to prepare for many of life's most unpredictable scenarios.
T
his disaster-preparedness manual covers how to find and store food, water, and clothing, as well as the basics of gathering and steriliz
ing
water, building a fire, and treating injuries in an emergency. 
GREEN UP YOUR FINANCES: Become your own banker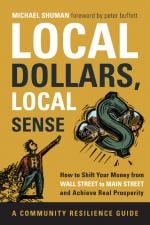 [16]
Retail Price: $17.95
Sale Price: $11.67
Did you know that local investing doesn't just have to involve food co-ops and small businesses? You can do wonders by strategically investing in yourself as well. Local Dollars, Local Sense can show you how to cut your addiction to easy credit-card money and save by becoming your own banker. 
Just like in Monopoly, you can become your own banker.
FIND OUT HOW…
[17]
In this book, local economy pioneer Michael Shuman 
demystifies the growing realm of local investment choices—from institutional lending to investment clubs and networks, local investment funds, community ownership, direct public offerings, local stock exchanges, crowdfunding, and more.
More New and Noteworthy Titles On Sale