Welcome to a new year — full of opportunities to live more sustainably. In celebration of the new year we have put together a selection from some of our our bestsellers from 2011.
As we enter our 28th year, Chelsea Green continues to publish groundbreaking books to help you examine your food choices, fuel political change, dig in to the joys of gardening, and organize for resilience within your community.
We look forward to bringing you more inspiring tools and resources this year. We're putting the finishing touches on our 2012 books, including Local Dollars, Local Sense by Michael Shuman (due in March). Fermentation guru Sandor Katz has also completed a groundbreaking new book on the Art of Fermentation. We'll have more details about all of our exciting 2012 titles in our next e-newsletter. Wishing you a wonderful 2012 from the folks at Chelsea Green Publishing. P.S. Don't forget, we offer free shipping on orders over $100.
The Small-Scale Poultry Flock: An All-Natural Approach to Raising Chickens and Other Fowl for Home and Market Growers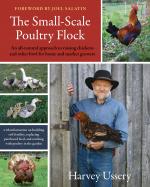 [1]
The most comprehensive and definitive guide to date on raising all-natural poultry. For homesteaders or farmers seeking to close their loop, The Small-Scale Poultry Flock offers a practical and integrative model for working with chickens and other domestic fowl, based entirely on natural systems.
No other book on raising poultry takes an entirely whole-systems approach, or discusses producing homegrown feed and breeding in such detail—it is truly an invaluable and groundbreaking guide that will lead farmers and homesteaders into a new world of self-reliance and enjoyment.
http://www.chelseagreen.com/bookstore/item/the_smallscale_poultry_flock:paperback [1]
The Winter Harvest Handbook: Year-Round Vegetable Production Using Deep-Organic Techniques and Unheated Greenhouses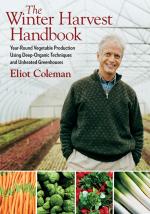 [2]
Choosing locally grown organic food is a sustainable living trend that's taken hold throughout North America. Celebrated farming expert Eliot Coleman continues to lead the way, pushing the limits of the harvest season while working his world-renowned organic farm in Harborside, Maine.
Gardeners and farmers can use the innovative, highly successful methods Coleman describes in this comprehensive handbook to raise crops throughout the coldest of winters.
http://www.chelseagreen.com/bookstore/item/the_winter_harvest_handbook:paperback [2]
Wild Fermentation: The Flavor, Nutrition, and Craft of Live-Culture Foods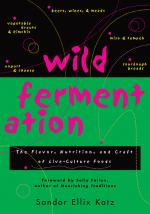 [3]
Bread. Cheese. Wine. Beer. Coffee. Chocolate. Most people consume fermented foods and drinks every day. For thousands of years, humans have enjoyed the distinctive flavors and nutrition resulting from the transformative power of microscopic bacteria and fungi. Wild Fermentation: The Flavor, Nutrition, and Craft of Live-Culture Foods is the first cookbook to widely explore the culinary magic of fermentation.
 The flavors of fermentation are compelling and complex, and quite literally alive. This book takes readers on a whirlwind trip through the wide world of fermentation, providing readers with basic and delicious recipes—some familiar, others exotic—that are easy to make at home.
http://www.chelseagreen.com/bookstore/item/wild_fermentation:paperback [3]
Reinventing Fire: Bold Business Solutions for the New Energy Era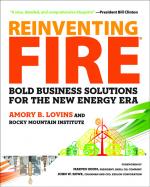 [4]
A global clean energy race has emerged with astounding speed. The ability to operate without fossil fuels will define winners and losers in business—and among nations.
Whether you care most about profits and jobs, national security, health, or environmental stewardship, Reinventing Fire charts a pragmatic course that makes sense and makes money. With clarity and mastery, Amory Lovins and Rocky Mountain Institute reveal astounding opportunities for enterprises to create the new energy era.
http://www.chelseagreen.com/item/reinventing_fire:hardcover [4]
Seed to Seed: Seed Saving and Growing Techniques for Vegetable Gardeners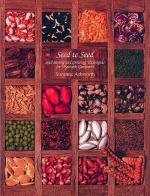 [5]
Seed to Seed is a complete seed-saving guide that describes specific techniques for saving the seeds of 160 different vegetables, and is widely acknowledged as the best guide available for home gardeners to learn effective ways to produce and store seeds on a small scale.
This newly updated and greatly expanded second edition includes additional information about how to start each vegetable from seed, which has turned the book into a complete growing guide.
http://www.chelseagreen.com/bookstore/item/seed_to_seed:paperback [5]
The Transition Companion: Making Your Community More Resilient in Uncertain Times
In 2008, the best-selling The Transition Handbook suggested a model for a community-led response to peak oil and climate change. Since then, the Transition idea has gone viral across the globe, from Italian villages and Brazilian favelas to universities and London neighborhoods.
The Transition Companion picks up the story today, and tells inspiring tales of communitites working for a future where enterprise, creativity, and the building of resilience have become cornerstones of a new, localized economy.
http://www.chelseagreen.com/bookstore/item/the_transition_companion:paperback
Preserving Food Without Freezing or Canning: Traditional Techniques Using Salt, Oil, Sugar, Alcohol, Vinegar, Drying, Cold Storage, and Lactic Fermentation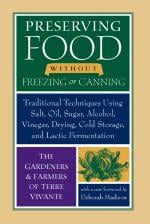 [6]
Typical books about preserving garden produce nearly always assume that modern kitchen gardeners will boil or freeze their vegetables and fruits. Yet here is a book that goes back to the future—celebrating traditional but little—known French techniques for storing and preserving edibles in ways that maximize flavor and nutrition.
Preserving Food Without Freezing or Canning offers more than 250 easy and enjoyable recipes featuring locally grown and minimally refined ingredients. It is an essential guide for those who seek healthy food for a healthy world
http://www.chelseagreen.com/bookstore/item/preserving_food_without_freezing_or_canning:paperback [6]
Sepp Holzer's Permaculture: A Practical Guide to Small-Scale, Integrative Farming and Gardening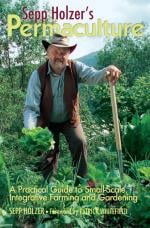 [7]
In this book, Holzer shares the skill and knowledge acquired over his lifetime, covering every aspect of his farming methods—not just how to create a holistic system on the farm itself, but how to make a living from it. Holzer writes about everything from the overall concepts, down to the practical details.
Holzer offers a wealth of information for the gardener or alternative farmer, yet the book's greatest value is the attitudes it teaches. He reveals the thinking processes based on principles found in nature that create his productive systems.
http://www.chelseagreen.com/bookstore/item/sepp_holzers_permaculture:paperback [7]
Thinking in Systems: A Primer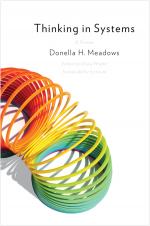 [8]
Some of the biggest problems facing the world—war, hunger, poverty, and environmental degradation—are essentially system failures. They cannot be solved by fixing one piece in isolation from the others, because even seemingly minor details have enormous power to undermine the best efforts of too-narrow thinking.
In a world growing ever more complicated, crowded, and interdependent, Thinking in Systems helps readers avoid confusion and helplessness, the first step toward finding proactive and effective solutions.
http://www.chelseagreen.com/bookstore/item/thinking_in_systems:paperback [8]
 Some more 2011 Bestsellers on Sale: