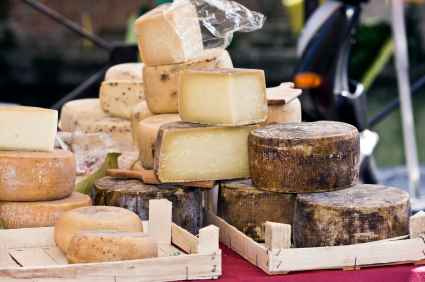 An article on some of the new and wonderful food-words cropping up all over your local supermarket, food channel, and trendy restaurant menu is being featured this week in the New York Times magazine. What you may not know—and the Times article goes a ways toward informing you—is that the word "locavore" (Oxford American Dictionary's word of the year, 2007) was coined by Chelsea Green author Jessica Prentice (Full Moon Feast: Food and the Hunger for Connection). Prentice, co-creator of the Local Foods Wheels, came up with the term on something like a dare from San Francisco Chronicle writer Olivia Wu.
Here's an excerpt from the Times article:
As the economy began its downturn last year and imports became more expensive, localness challenged cleanliness as being next to godliness in the food dodge. The lust for the local is even competing with organic — food grown or raised without a chemical assist but often transported around the world — and Wal-Mart, having joined the organic parade two years ago, is now touting its purchases of produce grown in-state near its supercenters.

Naturally, a name was needed to describe the new anti-exoticism. The word locavore was coined in 2005 on the analogy of carnivore, "flesh eater" (which most dictionaries prefer to "meat eater" because the Latin caro is translated as "flesh," but nobody eats fattening flesh these days), and herbivore, "plant eater." The suffix –vorous means "eating, devouring" and spawned the adjective "voracious."

The coiner is Jessica Prentice, who had left a job at the Ferry Plaza Farmers Market in San Francisco to write a book about "food and the hunger for connection." While working on that, she decided to urge people in the Bay Area to eat local food for a month; Olivia Wu, a food writer for The Chronicle, challenged her to come up with a name for what Prentice had been calling the nearby foodshed, I presume on the analogy of "watershed." She promptly melded the Latin locus, "place," with vorare, "swallow, devour" and (gulp!) there was locavore, the noun that became the Oxford American Dictionary's word of the year for 2007.

"The Rise of the 'Locavore' " was a Business Week headline this spring about the spread of farmers' markets: "Consumers increasingly are seeking out the flavors of fresh, vine-ripened foods grown on local farms rather than those trucked to supermarkets from faraway lands." Name of the trend in a recent review in The New York Sun, which lamentably set last month: locavorism.

The trend was confirmed in a macabre New Yorker cartoon last month by Bruce Eric Kaplan. A man-eating shark, munching on a human arm, says to another shark, "I'm trying to eat more locals."
Read the whole article here.
---