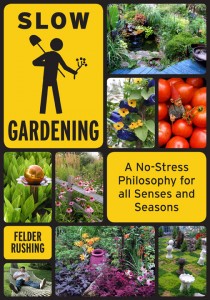 It is officially summer! In celebration of sunnny days, afternoons in the garden, and curling up to a book in the sun, we are putting all our new releases on sale for 25% off.
Check out the collection below: 
Just off the presses, Slow Gardening offers a practical yet philosophical approach to gardening

—

one that will help you slow down, take stock of your yard, and follow your own creative whimsy in the garden. Slow Gardening will inspire you slip into the rhythm of the seasons, take it easy, and get more enjoyment out of your garden, all at the same time.
| | | |
| --- | --- | --- |
| | | In  Alone and Invisible No More, physician Allan S. Teel, MD, describes a community-and technology-based approach to overhauling our eldercare system. Based on his own efforts to create humane, affordable alternatives in Maine, Teel's program harnesses both staff and volunteers to help people remain in their homes and communities. It offers assistance with everyday challenges and highlights technology to keep older people connected to each other and their families and stay safe. |
| | | |
| --- | --- | --- |
| Don't like spending money in garden centers? Think you can make it yourself for a fraction of the price or find a cheaper option? In, Grow Your Food for Free, Dave Hamilton shows you how. By recycling and reusing materials creatively and making the most of what you have, you can gather all you need to grow your food on a budget. From money-saving tips for every season to step-by-step instructions with easy-to-follow diagrams, this how to book is a must-have for everyone. | | |
| | | |
| --- | --- | --- |
| | Permaculture is much more than organic gardening. Arguably, it is one of Australia's greatest intellectual exports, having helped people worldwide to design ecologically sustainable strategies for their homes, gardens, farms, and communities. Permaculture Pioneers charts a history of the first three decades of permaculture through the personal stories of Australian permaculturists. It invites each of us, permaculturists or not, to embrace our power in designing our world out of the best in ourselves, for the benefit of the whole earth community. | |
| | | |
| --- | --- | --- |
| Seed Savers Exchange, the nation's premier nonprofit seed-saving organization, began humbly as a simple exchange of seeds among passionate gardeners who sought to preserve the rich gardening heritage their ancestors had brought to this country.  In Gathering, Ott Whealy's down-to-earth narrative traces her fascinating journey from Oregon to Kansas to Missouri and then back home to Iowa. Her heartwarming story captures what is best in the American spirit: the ability to dream and, through hard work and perseverance, inspire others to contribute their efforts to a cause. | | |
| | | |
| --- | --- | --- |
| | | A Taste of Tagore  illustrates the writing of Rabindranath Tagore, India's first Nobel Laureate, are contemplations in our daily lives. These extracts are taken from his many writings about the environment, education, the arts, politics, travel, and humanism. The book is divided into Poetry, Prose, and Prayers. Evident in these writings, Tagore's lifestyle embraced simplicity, moderation in consumption, the practice of arts in daily life, cohesion and harmony between religions, cultures, and countries. A Taste of Tagore brings to the reader the diversity, depth, and spirituality of his writings in one book. |
| | | |
| --- | --- | --- |
| Emergency Sandbag Shelter is not only a comprehensive "how-to" manual for use in disaster response, but will also be of interest to anyone who wants to build their own simple, cost effective and low-impact structures.  Now for the first time, this book is made available to people around the world by its inventor, award-winning architect Nader Khalili (1932-2008), who dedicated his life to teaching others how to build shelter for humanity.This book, with over 700 photos and illustrations, shows how to use sandbags and barbed wire, the materials of war, for peaceful purposes as the new invention known as Superadobe or earth-bag, which can shelter millions of people around the globe as a temporary as well as permanent housing solution. | | |
| | | |
| --- | --- | --- |
| | | If you've never opened a seed packet before and want to grow your food but don't know where or when to start, this book is for you. With advice for the new gardener, covering everything from how to plant seeds, when to pull up the carrot, and how to harvest potatoes, How to Grow Your Food will guide you–whether you have a balcony, bare concrete, a patio, or a larger patch of ground |
| | | |
| --- | --- | --- |
| Winter and early spring require a different kind of gardening than the summer months; not a lot grows at this time, but a well-planned plot may nonetheless be quite full. Through winter, soil is cool and transforms the plot into a large outdoor larder where many vegetables keep healthy and alive, ready for harvesting when needed. How to Grow Winter Vegetables explains how to have plenty of both stored and fresh vegetables to eat during the lean winter months. | | |
| | | |
| --- | --- | --- |
| | | E.F. Schumacher was a key figure in the development of environmentalism in the 20th century, and has left an enduring legacy. A profound thinker who was admired by Keynes, Beveridge and Cripps, he was for many years economic adviser to the Coal Board, and later put his ideas into practice by setting up the Intermediate Technology Development Group (now Practical Action) and becoming involved with the Soil Association. He was the inspiration for many other organizations that continue to this day, including the New Economics Foundation and Schumacher College. |
---