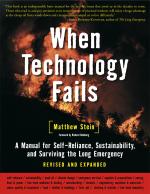 Matthew Stein, author of
When Technology Fails: A Manual for Self-Reliance, Sustainability, and Surviving the Long Emergency
, was interviewed this summer by Los Angeles-based Supreme Master Television (which focuses on programming that promotes peace and green living).
In the following video for their "Enlightening Entertainment" series, Mat carefully explains and demonstrates his "72-Hour Grab-and-Run Kit for Survival and Emergency" and talks about the tremendous importance of preparedness in general.
He explains the basic must-have necessities for any emergency – demonstrating the use of a water filter (one of the most essential items for survival in disaster conditions), showing viewers how to put together a simple first aid kit, and more.
Take a look at the video interview below and be sure to check out Mat's When Technology Fails – a book you'll want to have on your bookshelf in case of unexpected emergency situations that can strike at any moment. Part One:
---