Looking for something to do?
We have some of our favorite 'how to' projects — building a cold frame, growing mushrooms in your home, making your fridge carbon-free, or cooking kale and apples — ready for reading and viewing on our website. We hope these projects will inspire you as they have thousands of others. And, as an added bonus we're passing along a special discount to our online community – 25% off your next purchase at our online bookstore. At Checkout,
just enter the code DIY25
and your discount will be immediately applied. Happy reading from the folks at Chelsea Green Publishing. P.S. Discount codes can't be applied with any other offer. And, remember, orders over $100 receive free shipping.
Get a Jump on the Planting Season: Build Your Own Cold Frame
Get a jump on your spring garden by taking advantage of Eliot Coleman's innovative strategies for successful growing in cold weather. Eliot's book, The Winter Harvest Handbook: Year-Round Vegetable Production Using Deep Organic Techniques and Unheated Greenhouses [1], will show you everything you need to grow your own clean organic produce all year long.
Building on the techniques that hundreds of thousands of farmers and gardeners adopted
from
The New Organic Grower
and
Four-
Season Harvest, The Winter Harvest Handbook,
focuses
on growing
produce of unparalleled freshness and quality in customized, unheated
or minimally heated, moveable plastic greenhouses.
READ MORE…
[2]
HOW TO: Grow Shiitake Mushrooms in a Garage or Yard
Some of the most expensive and delicious gourmet mushrooms on the market are shiitakes, which also are credited in Asia with healthful properties such as lowering cholesterol and improving immunity to cancer. They are simple to grow in logs and take about 6 to 18 months to emerge. R. J. Ruppenthal, author of Fresh Food from Small Spaces: The Square-Inch Gardener's Guide to Year-Round Growing, Fermenting, and Sprouting [3], explains how.
READ MORE…
[4]
DIY Project: Build Your Own Carbon-Free Fridge
Refrigerators are one of the largest energy consumers in your home. There are great steps you could take to reduce the energy consumption of your fridge, buy why not take advantage of the dropping (or already low) temperatures outside to build your own carbon-free refrigerator?
Stephen and Rebekah Hren, authors of The Carbon-Free Home: 36 Remodeling Projects to Help Kick the Fossil-Fuel Habit, will show you how.
READ MORE…
[5]
HOW TO MAKE: Sautéed Kale with Apples, Feta and Walnuts
Kale, a cousin of wild cabbage, is a wonder veggie. We love it for its nutrient saturation, that it is available all year, and it grows sweeter in the winter. Cookbook author Didi Emmons gives us another reason to sing our kale praises with a warm, hearty salad from her book Wild Flavors [6]. Brimming with apples, raisins, feta and toasted walnuts, this salad can be served as a side or enjoyed as a healthy main course.
Wild Flavors follows a year at Eva's Garden through the seasons. It showcases Emmons's creative talents, featuring herbs (African basil, calaminth, lovage) and wild foods (autumn olives, wild roses, Japanese knotweed). The wide-ranging recipes reflect the shifting seasonal harvest and are easy to follow, but best of all, Emmons shows us how these
herbs,
greens, a
nd wild foods improve and transform the flavors in our food.
Wild Flavors is a cookbook that celebrates the interconnectedness and beauty of nature, farms, animals, and ourselves.
READ MORE…
[7]
Five Ways: To Cut Carbon While Cooking
There are many ways to decrease your carbon footprint by changing WHAT you cook for dinner: eat less meat, use local vegetables, grow your own, etc. But there are also many ways to decrease your carbon footprint by changing HOW you cook your dinner.
Jon Clift and Amanda Cuthbert, authors of Energy: Use Less-Save More, devote an entire section of their book to reducing energy usage in the kitchen. Here are some of their suggestions.
READ MORE…
[8]
Four Things: To Know About Buying Cheese
Gordon Edgar, author of Cheesemonger: A Life on the Wedge [9], tells you the four things you need to know about buying cheese.Witty and irreverent, informative and provocative, Cheesemonger is the highly readable story of Gordon Edgar's unlikely career as a cheesemonger at San Francisco's worker-owned Rainbow Grocery Cooperative.
A former punk-rock political activist, Edgar bluffed his way into his cheese job knowing almost nothing, but quickly discovered a whole world of amazing artisan cheeses. There he developed a deep understanding and respect for the styles, producers, animals, and techniques that go into making great cheese.
WATCH IT NOW…
[10]
Video: Reclaiming Fermentation and the Foods We Eat
Coming Soon!
Available for Pre-Order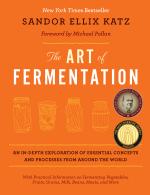 [11]
The Art of Fermentation is the most comprehensive guide to do-it-yourself home fermentation ever published. Sandor Katz presents the concepts and processes behind fermentation in ways that are simple enough to guide a reader through their first experience making sauerkraut or yogurt, and in-depth enough to provide greater understanding and insight for experienced practitioners.
While Katz expertly contextualizes fermentation in terms of biological and cultural evolution, health and nutrition, and even economics, this is primarily a compendium of practival information—how the processes work;
parameters for safety; techniques for effective preservation; troubleshooting; and more.
"Sauerkraut was definitely my gateway drug into fermentation." — Sandor Katz
WATCH IT NOW…
[12]
Plantain: Excerpt from Chinese Medicinal Herb Farm in Herb Companion
Peg Schafer, longtime grower and teacher, guides readers with information on propagating, cultivating, and harvesting Chinese herbs, and presents fascinating new scientific data that reveal the age-old wisdom of nature and the traditional systems of Chinese medicine. Some common plants like Plantain have a large range of medincianal uses. Take a look at this excerpt to get the low down.
READ MORE…
[13]
In their newest issue Herb Companion magazine writes about the recent tour of Peg's herb farm (and includes an excerpt). It
sounds like they had a wonderful visit:
Schafer's greeting is as warm as the weather, but as soon as we enter the growing area, it's obvious this is a place where business—a lot of business—gets done. Tools are everywhere, along with organized piles of herbs and the hum of a dehydrator that forms a steady accompaniment to conversation in Schafer's office. When we head out to the trial garden and fields, it's like visiting a friendly but somewhat alien land. There are mimosa and honeysuckle—recognizable, but who knew they were medicinal? And at last I get to see Withania somnifera, also known as ashwagandha, growing. It isn't pretty, but it's one of my favorite herbs, a great tonic herb that nourishes just about every system in the body.

READ MORE… [14]