William Maclay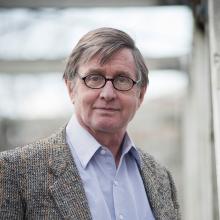 Bill Maclay, founder and president of Maclay Architects, pursued architecture as a career in order to make the world a better place. He has been a lecturer and educator at colleges, universities, and conferences focused on environmental design. He is also past president of the Vermont Chapter of the American Institute of Architects (AIA), and has served on the board of directors of the Vermont Businesses for Social Responsibility and the Yestermorrow Design/Build School, among other organizations.
Maclay and his firm have long been involved in research on all aspects of environmental design-including sustainable design, indoor air quality, building science, material selection, and related issues.
Maclay committed to using renewable energy to create a non fossil-fuel-based future in 1970. He developed, designed, and built one of the first renewable communities in the US; and his innovative renewable and energy-conserving projects have been exhibited and published internationally. Maclay's projects range from single-family residences to multifamily residential, commercial, and institutional projects.
He has a BA from Williams College and a Master of Architecture from the University of Pennsylvania.
Maclay Architects is located in Waitsfield, Vermont.
Photo credit to John Earle