Robert Kuttner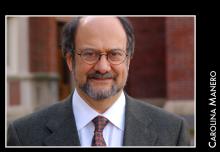 Robert Kuttner, author of the most prescient political book of 2008, Obama's Challenge: America's Economic Crisis and the Power of a Transformative Presidency, is cofounder and coeditor of The American Prospect magazine, as well as a Distinguished Senior Fellow of the think tank Demos. He was a longtime columnist for BusinessWeek, and continues to write columns in the Boston Globe.
His previous and widely praised books include The Squandering of America: How the Failure of Our Politics Undermines Our Prosperity; Everything for Sale: The Virtues and Limits of Markets (about which Robert Heilbroner wrote, "I have never seen the market system better described, more intelligently appreciated, or more trenchantly criticized than in Everything for Sale"); The End of Laissez-Faire: National Purpose and the Global Economy After the Cold War; and The Economic Illusion: False Choices Between Prosperity and Social Justice.
Kuttner's magazine writing has appeared in The New York Times Magazine and Book Review, The Atlantic, The New Republic, The New Yorker, Dissent, Columbia Journalism Review, and Harvard Business Review. He has contributed major articles to The New England Journal of Medicine as a national policy correspondent.
Formerly an assistant to the legendary I.F. Stone, chief investigator for the Senate Banking Committee, Washington Post staff writer, economics editor for The New Republic, and university lecturer, Kuttner's decades-long intellectual and political project has been to revive the politics and economics of harnessing capitalism to serve a broad public interest.
Kuttner is a frequent contributor to The Huffington Post.