Peter Laufer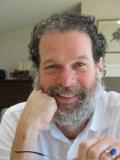 Peter Laufer, winner of major awards for excellence in reporting, is an independent journalist, broadcaster and documentary filmmaker working in traditional and new media. While a globe-trotting correspondent for NBC News, he also reported, wrote, and produced several documentaries and special event broadcasts for the network that dealt in detail with crucial social issues, including the first nationwide live radio discussion of the HIV/AIDS epidemic. "Healing the Wounds" was an analysis of ongoing problems afflicting Vietnam War veterans. "Hunger in America" documented malnutrition in our contemporary society. "A Loss for Words" exposed the magnitude and impact of illiteracy in America. "Cocaine Hunger" was the first network broadcast to literally trace the drug from the jungles of Bolivia to the streets of America, and alerted the nation to the avalanching crises caused by the consumption of crack cocaine. "Nightmare Abroad" was a pioneering study of Americans incarcerated overseas.
Laufer's first major exposure to immigration issues dates to the Soviet invasion of Afghanistan in 1980 when he reported from Afghan refugee camps for NBC Radio. Almost 10 years later, as the Iron Curtain began to fall at the Berlin Wall, which he reported for CBS Radio, Laufer went on to cover immigration from Western Europe, reporting on the hordes of desperate people trying to better their lives by talking, sneaking, bribing, cajoling themselves and their families into Western Europe with the same ferocity he would find more than a decade later among Mexicans and other impoverished Latin Americans hungry for work and heading north to the U.S., even at risk of their lives. In 2002, Laufer's documentary film, Exodus to Berlin, and the ensuing book of the same title, told the relatively unknown story of the resurgence of Germany's Jewish population.
Laufer's books include The Question of Consent: Innocence and Complicity in the Glen Ridge Rape Case. It is the study of the rape of a mentally retarded schoolgirl by a gang of her classmates, and the effect of the case of the health of the local community. He's written works on the fall of Communism in Europe (titled Iron Curtain Rising), a severe criticism of contemporary talk radio, Inside Talk Radio: America's Voice Or Just Hot Air, and a book version of the documentary about Americans in prisons overseas, also titled Nightmare Abroad.
Another of his books, Made in Mexico, published by the National Geographic, deals, in a juvenile environment, with cross border issues between California and Mexico. Laufer has written Neon Nevada, with his wife Sheila Swan Laufer, a study of the cultural impact of neon signs published by the University of Nevada Press, and Wetback Nation: The Case for Opening the Mexican-American Border.
Peter Laufer is the anchor of the radio program National Geographic World Talk and co-anchor of the radio program Washington Monthly on the Radio.