Michael H. Shuman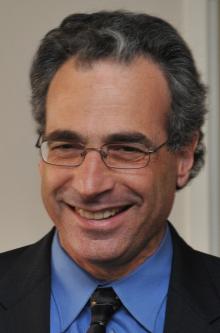 Michael H. Shuman is an economist, attorney, author, and entrepreneur, and a globally recognized expert on community economics. He is one of the architects of the crowdfunding "JOBS Act" signed into law by President Obama in April 2012. Director of Community Portals for Mission Markets and a fellow at Cutting Edge Capital and Post-Carbon Institute, Shuman is also a founding board member of the Business Alliance for Local Living Economies (BALLE) and teaches economic development at Simon Fraser University in Vancouver. He has authored or coauthored eight books, including Local Dollars, Local Sense and The Small Mart Revolution.
Shuman has performed "leakage analyses" and related economic-development planning in more than ten states, and has analyzed opportunities for food localization for several states, cities, counties, and regions across the nation. He has also conducted a local-food-business study funded by the Bill & Melinda Gates Foundation and the W.K. Kellogg Foundation.
He has given an average of more than one invited talk per week, mostly to local governments and universities, for thirty years—in forty-seven states and eight countries. He has appeared on numerous television and radio shows, such as the Lehrer NewsHour, NPR's Talk of the Nation and NPR's All Things Considered, and has written nearly one hundred articles for such periodicals as The New York Times, The Washington Post, The Nation, The Weekly Standard, Foreign Policy, Parade, and The Chronicle of Philanthropy. Previously, he has been a W.K. Kellogg National Leadership Fellow. He is also a member of both the State Bar of California and the District of Columbia Bar.
He lives in Silver Spring, Maryland.
Michael H.'s Upcoming Events
Michael H.'s Books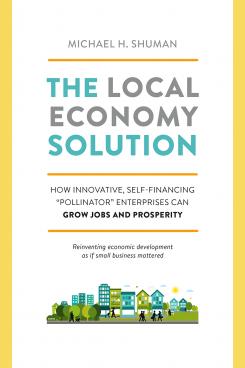 How Innovative, Self-Financing 'Pollinator' Enterprises Can Grow Jobs and Prosperity
The Local Economy Solution suggests an alternative approach in which states and cities nurture a new generation of enterprises that help local businesses launch and grow. These cutting-edge companies, which Shuman calls "pollinator businesses," are creating jobs and the conditions for future economic growth, and doing so in self-financing ways.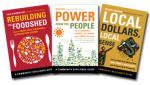 More and more Americans acutely sense that the old way of doing things — investing their savings in Wall Street companies who care little about the well-being of our families and communities, depending on polluting, increasingly costly, and non-renewable sources of energy, and eating food grown far away that makes us sick — is no longer working. Instead, we want to invest in own homes and our own neighborhoods. We want to be build more local self-reliance in the face of uncertainty. We want to be have a say in the future of our communities. But how? In partnership with Post Carbon Institute, Chelsea Green presents the Community Resilience Guides — a series of books exploring the newest and most promising examples of relocalization for uncertain times.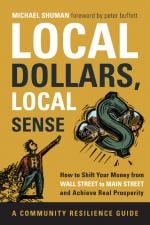 How to Shift Your Money from Wall Street to Main Street and Achieve Real Prosperity
Local Dollars, Local Sense by Michael Shuman probes the future of investing -- making the case for investors to put their money into building local businesses and food and energy systems, and otherwise creating healthy regional economies that meet the stresses of a post-peak-oil world. The book tells readers how to find or develop opportunities for investing locally, explains the obstacles, and introduces readers to investors who have taken on the challenge and put their theories about local investing into action.