Julian Darley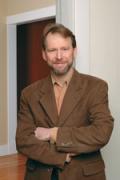 Julian Darley is a British environmental philosopher who researches and writes about non-market and non-technology-based responses to global environmental degradation. He is also engaged in piloting such responses.
In order to further both dissemination of ideas and pilot projects, Julian runs an Internet broadcasting station (
GlobalPublicMedia.com
, develops OpenSource web database sites for non-profits and civil society organisations, and is currently writing a book on how and why we need "global relocalisation" of the economy, society and culture.
Julian has an eclectic education: an MSc in Environment and Sociology from University of Surrey, UK, which led to a published thesis examining the coverage of complex environmental issues in current affairs programmes at the BBC; an MA in Journalism and Communications from the University of Texas at Austin, culminating in a thesis about the elimination of television; and a BA in Music & Russian.
Julian uses his wide range of skills from previous careers as laboratory scientist, musicologist, film-maker, language teacher, translator, software architect, and environmental policy advisor to further all of his work.
Julian is an energy analyst and the founder of Post Carbon Institute, an organization dedicated to getting the world off fossil fuels fast.
For more information visit the
Post Carbon Institute Web site
.
Photo � Darren Bernaerdt