Judy Wicks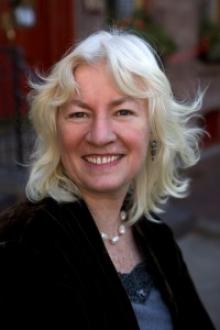 An international leader and speaker in the local-living-economies movement, Judy Wicks is former owner of the White Dog Café, acclaimed for its socially and environmentally responsible business practices. She is also cofounder of the nationwide Business Alliance for Local Living Economies (BALLE), as well as founder of the Sustainable Business Network of Greater Philadelphia and Fair Food — both incubated at the White Dog Café Foundation and supported by the restaurant's profits. In her retail career, Judy was founder and owner of Black Cat, which featured locally made and fair-trade gifts for twenty years. In 1970, Judy cofounded the original Free People's Store, now well known as Urban Outfitters. Her work has earned numerous awards, including the James Beard Foundation Humanitarian of the Year Award, the International Association of Culinary Professionals Humanitarian Award and the Women Chefs and Restaurateurs Lifetime Achievement Award. She lives in Philadelphia. Continuing her work to build a new economy, Judy mentors the next generation of entrepreneurs and consults for beautiful businesses. She can be reached at
Judy's Upcoming Events
Judy Wicks at Naropa University


Naropa University 6280 Arapahoe Avenue Nolanda Campus, Dojo Room, Boulder CO 80302

September 17, 2014, 7:00 pm

Judy Wicks at Colorado Springs Local Food Week Talk and Signing


Armstrong Theater, 14 East Cache La Poudre St., Colorado Springs CO 80903

September 18, 2014, 3:00 pm

Judy Wicks at Junto Retreat 2014


20 North American Street, Philadelphia PA

September 25, 2014, 10:15 am

Judy Wicks at Respect for the Earth and All People


Hotel Arts, 119 12 Avenue SW, Calgery, Alberta Canada

September 28, 2014, 1:00 pm

Judy Wicks at E.F. Schumacher Lecture


, TBD MA

October 9, 2014, 12:00 pm

Judy Wicks is a leader, writer, and speaker in the localization movement. She began buying from local farmers in 1986 for her restaurant White Dog Café, which she started on the first floor of her Philadelphia row house in 1983. Realizing that helping other restaurants connect with local farmers would strengthen the regional food system, she founded Fair Food Philly in 2000. The following year she co-founded the nationwide Business Alliance for Local Living Economies (BALLE), now a network of over 20,000 local independent businesses in the U.S. and Canada, and founded the local affiliate Sustainable Business Network of Greater Philadelphia, currently with over 400 members. In 2009 Judy sold the White Dog with a unique agreement that preserves local, independent ownership and maintains sustainable business practices, including buying from local farmers, composting, and using renewable energy. She is the recipient of many local and national awards, including the James Beard Foundation's Humanitarian of the Year Award and the Philadelphia Sustainability Award for Lifetime Achievement. She continues to serve on the board of directors of BALLE. Her memoir, "Good Morning, Beautiful Business: the Unexpected Journey of an Activist Entrepreneur and Local Economy Pioneer," was published in 2013.

Judy Wicks at Presidio Graduate School


36 Lincoln Blvd., San Francisco CA

January 24, 2015, 12:00 pm

Judy will visit Presidio Graduate School to speak about her latest work, "Good Morning, Beautiful Business" on January 24. Details to come.
Judy's Books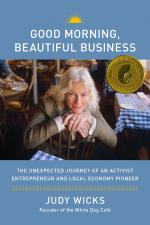 The Unexpected Journey of an Activist Entrepreneur and Local Economy Pioneer
Good Morning, Beautiful Business is a memoir about the evolution of an entrepreneur who would not only change her neighborhood, but would also change her world -- helping communities far and wide create local living economies that value people and place as much as commerce and that make communities not just interesting and diverse and prosperous, but also resilient.