Gene Logsdon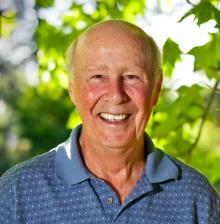 A prolific nonfiction writer, novelist, and journalist, Gene Logsdon has published more than two dozen books, both practical and philosophical. Gene's nonfiction works include
Holy Shit
,
Small-Scale Grain Raising
,
Living at Nature's Pace
, and
The Contrary Farmer
. His most recent novel is
Pope Mary and the Church of Almighty Good Food
. He writes a popular blog,
The Contrary Farmer
, as well as an award-winning column for the Carey (OH)
Progressor Times
, and is a regular contributor to
Farming
magazine and
Draft Horse Journal
. He lives and farms in Upper Sandusky, Ohio.