Davidson Loehr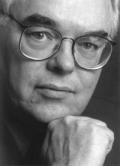 Davidson Loehr has always been a heretic. When he was six, his Sunday School teacher told the class a new story. It was called, as he heard it, "Trinadee." He didn't mind the God in the sky—Superman and Captain Marvel were up there, so there could be room for gods, too. And the god had a son—well, this is fine, too. Especially since they had a poster of this blue-eyed, brown-haired son right on their Sunday School wall, with a lot of little kids gathered around him.
But then the teacher said there was this ghost. The only image of a ghost Davidson had was Caspar. Now Superman and Captain Marvel are one thing, but Caspar the Friendly Ghost was just silly. So when the teacher asked if they "understood" this Trinadee story, he told her that it wasn't a bad story—though not one of the best they'd heard—but next time, lose the ghost.
The teacher got angry, and enlisted the rest of the class to agree that they liked the story, ghost and all. Then she said "You know, Jesus doesn't like little boys who don't like this story!" "Well then," Davidson said, "You can lose Jesus, too."
He was through with religion that day, until he heard an honest preacher fifteen years later: a Unitarian minister named John Wolf, in Tulsa, Oklahoma. Here, he found religion that was honest, relevant, and profoundly challenging. A few months later, in January 1964, Davidson enlisted in the Army and was soon sent to Germany, where he attended a tough NCO Academy. He returned to the states the following year, and attended artillery officer candidate school. Later he was sent to Vietnam as a Lieutenant. There, he first served as The Vietnam Entertainment Officer, handling all the USO-sponsored shows and entertainers. All told, Davidson spent nearly four years in the military.
But he came to feel both bored and cowardly in Saigon, so transferred to the field, and spent his final seven months as a combat photographer and press officer assigned to the 11th Armored Cavalry Regiment. He still describes that time as "sacred."
He discovered that he had a gift for photography, and later opened a high-priced photography studio in Ann Arbor, where he had finished his undergraduate degree in music theory. (He had been a professional musician as a teen-ager, playing in combos, dance bands, and road bands.)
But neither music nor photography were addressing a deep kind of hunger he felt. Some of this came from what he would later describe as feeling terribly confused and lost after his year in Vietnam. But the deeper part was that double-edged yearning for honest religion, and for stories worth living by. This hunger had been part of him since he was six, and wouldn't leave until it was fed.
In the late 70s, he called John Wolf—it had been sixteen years since he'd heard his voice. They talked about the ministry, and Davidson asked where he could get the best and most demanding education in religion. "That would have to be the University of Chicago," said his old minister. "Oh," said Davidson, "I didn't know Chicago had a university." After a long pause, Wolf muttered "Jesus Christ!"
Loehr called information, and discovered that Chicago did have a university. So in 1979, he enrolled at the University of Chicago Divinity School. He left in 1986, with an MA degree in methods of studying religion, and a Ph.D. in theology, the philosophy of religion and the philosophy of science. But his heretical soul was still there: the title of his dissertation was "The Legitimate Heir to Theology: A Study of Ludwig Wittgenstein."
Since 1986, Davidson has served Unitarian churches in Michigan, New York and Minnesota. Currently, he is a liberal minister in Austin, Texas.
After music, photography and woodworking, Davidson has a new obsession: wood turning. He's been turning wooden bowls on a lathe for about a year, has spent time and money studying with four of the top turners/teachers in the country, and turns an average of at least a bowl a day, in addition to his real job.
Heresy comes from a Greek word meaning "to choose." It's the path of those who, throughout history, have chosen "the road less traveled." And as Robert Frost observed, it makes all the difference. Heresy is also, Davidson says, about the only place where the holy spirit can be found. "The religion of the priests is always orthodox, and always serving the gods of the culture, mostly money. The religion of the prophets is always heretical, choosing better stories and more demanding paths. It's the only religion worthy of the name." Well, that's just what a heretic would say!
Read Davidson Loehr's Chelsea Green author blog.