Courtney White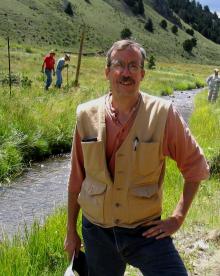 Courtney White is the author of Grass, Soil, Hope. A former archaeologist and Sierra Club activist, White dropped out of the 'conflict industry' in 1997 to co-found the Quivira Coalition, a nonprofit dedicated to building bridges between ranchers, conservationists, public land managers, scientists, and others around the idea of land health (www.quiviracoalition.org). Today, his work with Quivira concentrates on building economic and ecological resilience on working landscapes, with a special emphasis on carbon ranching and the new agrarian movement.
His writing has appeared in numerous publications, including Farming, Acres Magazine, Rangelands, Natural Resources Journal, and Solutions. His essay "The Working Wilderness: A Call for a Land Health Movement" was published by Wendell Berry in 2005 in his collection of essays titled The Way of Ignorance.
Courtney is the author of the book Revolution on the Range: the Rise of a New Ranch in the American West, and he co- edited, with Dr. Rick Knight, Conservation for a New Generation, both published by Island Press in 2008.
In 2012, he published a collection of black-and-white photographs of the American West in an online book titled The Indelible West, which includes a foreword by Wallace Stegner.
He lives in Santa Fe, New Mexico, with his family and a backyard full of chickens.