The following is an excerpt from Whole Foods Companion: A Guide for Adventurous Cooks, Curious Shoppers, and Lovers of Natural Foods by Dianne Onstad. It has been adapted for the Web.
Grapefruit
(Citrus x paradisi)
There's a lot more juice in a grapefruit than meets the eye.
—Anonymous

The term Citrus derives from the Greek term for the citron, kedromelon. Paradisi means "coming from paradise." The English name was coined in 1814 in the West Indies by Jamaican farmers. Several attempts have been made to change the name of the fruit to something "more appropriate," but the name grapefruit has prevailed, except in Spanish-speaking areas, where it is called toronja.
General Information
The grapefruit is a relative newcomer to the citrus clan, an accidental hybrid between the pummelo and the orange. It was first described in 1750 by Griffith Hughes, who called it the "forbidden fruit" of Barbados. Seeds were brought to Florida by the French Count Odette Phillippe in 1823, but at first the trees were grown only as a novelty and the fruit little utilized. Florida started sending small shipments of the fruit to New York and Philadelphia between 1880 and 1885, thus setting in motion the colossal
---
Lore and Legend
Following the United States stock market crash in 1929, citrus fruits could be had free for orange-colored food stamps (the color and name of the chief citrus fruit were only coincidental). This brought the grapefruit into families that had previously been so ignorant of it that welfare boards received the same complaint numerous times: that the fruit had been boiled for hours and still remained tough.
---
Florida citrus industry. For many years the grapefruit was not extremely popular because of its slightly bitter taste, but sweeter varieties were eventually bred. Red grapefruit were first spotted in the Rio Grande valley of Texas during the 1920s and have since been transplanted to other parts of the world; the red grapefruit is now designated the state fruit of Texas. The thin-skinned, shiny, heavy Florida grapefruit is considered by many to be the juiciest, sweetest, most nutritious variety available.
Buying Tips
Grapefruit of good quality should be heavy, well shaped, and even-colored, with a smooth, thin, shiny skin that is firm but springy to the touch. The heavier fruits are usually thinner-skinned and contain more juice than those with coarse, puffy, or spongy skins. Grapefruit will keep for up to eight weeks in the refrigerator.
Culinary Uses
There are several varieties, each good for different uses: white is best for juicing, pink is sweet enough to be eaten like an orange, and red is sweeter still. Generally considered a breakfast fruit, grapefruit is also used to make juice and marmalades, is added to fruit salads, ices, cakes, and other desserts, and can be baked or grilled. It is best to eat grapefruit alone or with other acid fruits, and not in combination with sweet fruits or starches. The habit of sweetening them (with sugar or another sweetener) causes a fermentation of the sweetener in the system, which then produces an acidic reaction in the body. Served before the main meal, grapefruit will stimulate the appetite and aid digestion. Once the grapefruit or its juice has been canned or in any way preserved, the value of the organic elements is lost.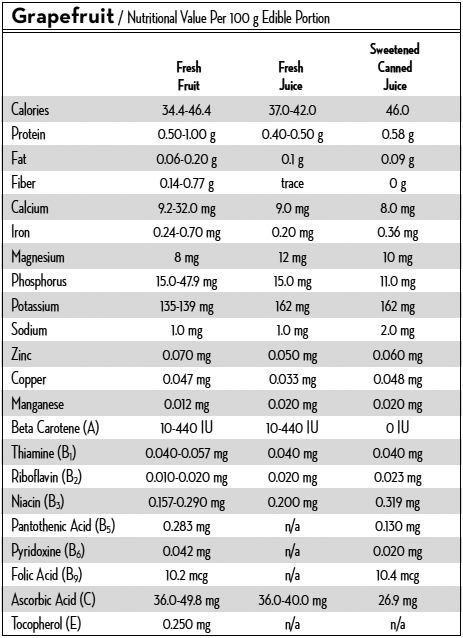 Health Benefits
pH 3.00–3.75. Digestive. Fresh grapefruit, because of its salicylic acid content, has proved to be one of the most valuable fruits as an aid in the removal or dissolving of inorganic calcium that may have formed deposits in the joints (as in arthritis) as a result of excessive consumption of devitalized white flour and pasteurized milk products. Naringin, a flavonoid isolated from grapefruit, has been shown to promote the elimination of old red blood cells from the body and to normalize hematocrit levels (percentage of red blood cells per volume of blood). A compound called galacturonic acid, found only in grapefruit, adds a unique therapeutic benefit: it breaks up and dislodges the fatty plaque buildup in arteries and whisks it away. Used externally, the juice is a natural antiseptic for wounds and is valuable as a drug or poison eliminator.
One word of caution, though: avoid the extensive overuse of all citric acid fruits, as they are powerful dissolvers of the catarrhal accumulations in the body, and the elimination of too much toxic material all at once may cause boils, irritated nerves, diarrhea, and other problems. Citrus seed extract, usually derived primarily from grapefruit seeds, is available as a major ingredient in liquid extracts, capsules, and ointments. Grapefruit seed extract is extremely effective at killing dozens of bacteria, fungi, yeast, and other harmful organisms. When diluted, it can help knock out a sore throat, stop a bout of food poisoning, curb acne, clear up traveler's diarrhea, and kill off a candida infection. Used full strength, it even makes warts vanish.
---