Recipe: Summer Herb Flower Vinegar
Olivia's mom, Lola, is famous for her potato salad that seems so simple, but has a certain je ne sais quoi—the secret ingredient: chive-flower-infused vinegar. She recalls, "As a child I was enchanted by the apothecary bottles lined up on our kitchen shelves, stuffed with purple pompoms—I just knew there was magic happening inside." By following this simple recipe, you too can create magic!
This recipe is from The Occidental Arts and Ecology Center Cookbook by The Occidental Arts and Ecology Center with Olivia Rathbone.
---
Instructions
Pack the herb flowers into the bottom of a clean, small-mouthed pint (or quart) -sized Mason jar or other glass container. Pour in the vinegar to cover by an inch. Vinegar will corrode metal, so use a plastic lid—if you don't have one, create a barrier by putting a piece of plastic wrap or waxed paper over the mouth and screw on the metal lid over it. Keep in a cool dark place for 3 weeks. Strain the infused vinegar, compost the spent flowers, and funnel the vinegar back into the original bottle or another decorative glass vessel. Makes a great gift.
Serves 4–6
Makes about 1½ cups
1½ cups packed chive flowers, society garlic flowers, sage flowers, rosemary flowers, basil flowers, monarda (bee balm) blossoms, dill flowers, or fennel flowers
Good-quality white wine or champagne vinegar to cover, about 1½ cups
Serves 30–40
Makes about 3 cups
3 cups packed chive flowers, society garlic flowers, sage flowers, rosemary flowers, basil flowers, monarda (bee balm) blossoms, dill flowers, or fennel flowers
Good-quality white wine or champagne vinegar to cover, about 3 cups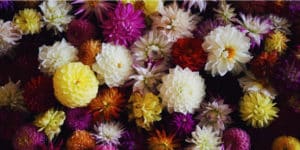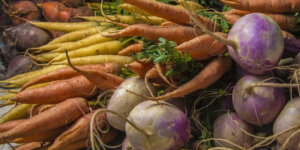 If you love to cook with fresh produce but happen to live in a climate where it's nearly impossible to access during the winter months, we feel ya! Here in the northeast, chilling winds and heaps of snow make it hard to leave the house, let alone grow fresh produce, but that doesn't mean we…
Read More