Born on Third Base: A Q&A with Author and Inequality Activist Chuck Collins
As inequality grabs headlines, steals the show in presidential debates, and drives deep divides between the haves and have nots in America, class war brews. Does it have to be this way?
Can we suspend both class wars long enough to consider a new way forward? Is it really good for anyone that most of society's wealth is pooling at the very top of the wealth ladder? Does anyone, including the one percent, really want to live in a society plagued by economic apartheid?
It is time to think differently, says longtime inequality expert and activist Chuck Collins. Born into the one percent, Collins gave away his inheritance at 26 and spent the next three decades mobilizing against inequality. He uses his perspective from both sides of the divide to deliver a new narrative that he spells out in his new book Born on Third Base.
In this provocative Q&A, Collins lays out a case for ending the class war that his work has often fueled and argues that it's time to engage the wealthy to be part of the solution.
You can also check out this great review by Rob Hopkins on the Transition Network.
---
Chelsea Green Publishing: You're the great grandson of the iconic American meatpacker Oscar Mayer. Yet when you were 26 you decided to give away the wealth you received from your family. Why?
Chuck Collins: I had a significant head start in life—with a debt-free college education and other advantages. By my mid-20s, having the wealth felt like an impediment to making my own way in the world. I didn't have an emotional claim on it: I hadn't earned it—and I was exposed to all kinds of urgent needs around me. The tipping point, which is how I begin the book, is working with a group of thirty low-income mobile home tenants facing eviction from their park—and realizing I had three or four times as much wealth as all of them combined.
CGP: You've been an organizer, agitator, and researcher on wealth inequality for decades, and for a long time your work fueled the "class war" now underway. So why, now that things are worse than ever on the inequality front, are you calling for a truce?
CC: I used to think if we got most people—the 99 percent—to focus their rage and resentments at the very wealthy, we could build a movement to reverse inequality. But now I feel that this politics of rage won't get us the transformation we need. Plus, there are lots of potential allies in the 1 percent who are waiting to be engaged, "invited home," as I write. Economic inequality and the climate crisis are bad for everyone, including the very wealthy. If we understand this, then the real work is about organizing and deepening our connections. Part of this work is inviting the reachable rich to the table to engage and connect and to partner in the work of building resilient sustainable communities and fixing the future.
CGP: In Born on Third Base you state that the future of today's youth is far more defined by class and wealth at birth than any other time in recent history. What do you mean by that?
CC: These inequalities of income, wealth, and opportunity are hitting the rising generation particularly hard. I see it in my children's generation—and I know their struggles as a parent, godparent, neighbor, former soccer coach. In the book, I tell a story about four 21 year olds that I know and how their life trajectories are largely dictated by the presence or absence of family wealth. Sociologists call this the "intergenerational transmission of advantage." The advantages of being born with wealth and privilege are accelerating while everyone else is encountering enormous barriers, such as student debt, low-wage entry jobs, and rising housing costs.
CGP: The rationale that keeps this divide growing, you say, has its roots in the many stories we tell ourselves that just aren't true. What are some of these stories, and how might we change them?
CC: Most of us hold a story that explains or rationalizes inequality. In US culture, the stories of deservedness, meritocracy, and independence are particularly powerful. In essence, people believe wealth and success are the result of individual merit—hard work, intelligence, creativity, moxie—and there is some truth to this. But the "I did it alone" story completely minimizes all the help people get, visible and invisible. These stories mask the role of nature and the powerful matrix of the "commons" or "commonwealth"—the things we build and hold together—that are the foundations of real wealth and prosperity. These include nature's bounty and public investments such as infrastructure, research, property protections, and more. We need to lift up the stories of interdependence and the public and community investments that enable us to flourish.
CGP: What is the role of wealthy people in changing these stories?
CC: There is an important role for wealthy and privileged people, not just the super-wealthy, in telling the true stories of their individual wealth and advantage, laying bare the mechanisms that enable people to attain stability, affluence, and wealth. This requires disclosing all the forms of "help" they have gotten along the way. They can disrupt the simplistic "I did it alone" stories, injecting a more nuanced story of "no one does it alone" and the reality that our lives depend on an interdependent web of other people, community institutions, public investments, gifts, family assistance, and luck.
CGP: How did programs like the GI bill leave people of color behind, and how does that affect the advantages or disadvantages of people of color today?
CC: In the decade after World War Two, 1945 to 1955, the United States made unprecedented public investments in expanding a middle class. This included the GI bill, which provided grants for higher education and billions spent on subsidizing access to homeownership. Subsidized mortgages and housing were provided through the Veterans Administration (VA), Farmers Home Administration (FmHA), and Federal Housing Administration (FHA) low interest loans and subsidized mortgage insurance. Millions of mostly white families got a ticket on the express train to wealth, ownership, and opportunity. Most people of color were left at the station with no train in sight. Two generations later, this is one of the explanations for the persistent racial wealth divide and racial disparities in homeownership rates.
Many white families I know benefited enormously from these public investments but have what anthropologists call "structural amnesia" when it comes to understanding how they are beneficiaries of government subsidies. Many have imposed a personal narrative of deservedness on to their advantages, forgetting how government funds made all the difference. If we don't own up to our subsidies, we perpetuate the myth of individual achievement. Instead, we should reorient our government priorities from funneling wealth to billionaires to lifting up everyone, without racial bias.
CGP: Your book is packed with some surprising perspectives. For instance, there's a lot of positive publicity about the notion of the wealthy "giving back," and as you write, "anyone who criticizes the limitations of such charity is considered a skunk at the garden party." Yet you do criticize it. Why?
CC: Philanthropy is mostly a good thing, but it is not a substitute for the wealthy paying their fair share of taxes and having a robust and efficient government at all levels. Philanthropy can lift up the best aspects of our vibrant independent sector, which can be a laboratory for innovation and enliven our lives and culture. Good funding for social change can support transformative movements. But charitable dollars aren't going to build public transit lines, substantially reduce poverty or prevent corporate polluters from destroying our ecosystems. I'm pretty critical of the charitable industrial complex because of its lack of accountability and for ways that some philanthropy is now compounding inequalities rather than reducing them. A wealthy person might deduct thousands of dollars off of their taxes because they donated a painting to a museum—all while the public school down the street is in desperate need of funding. So it's a matter of who gets to decide how taxable dollars are allocated.
CGP: The book is also packed with solutions—from the more familiar fair-taxation solutions to the very novel community-focused efforts. What can we do to really address this crisis?
CC: The engine of change will be powerful social movements—made up of all kinds of people and communities—that press for an economy that works for everyone, not just the wealthy. This will lead to a fundamental political realignment, shifting the balance of power away from billionaires and a few thousand global corporations and toward voters, workers, small businesses, and local communities.
These movements will elect local, state, and national representatives and hold them accountable for changing the rules that are presently rigged in favor of asset owners at the expense of wage earners. These rules include government policies that regulate taxation, wages, investment, global trade, corporate regulation, and public expenditures. We need to tax wealth and fund a "GI Bill" for the next generation in terms of debt-free higher education. We need to reform philanthropy so that it reduces inequality rather than compounds inequities of wealth and power.
CGP: Your book ends with advice to the wealthy on ways they can rejoin the other 99% (and "come home") and also with advice to those of us who are not rich. What should we be doing to help reduce economic inequality in this country?
CC: My experience is that many people with wealth can better leverage their privilege—their donations, investment capital, and their social and political capital—to shift the ecological and economic trajectory away from escalating inequality and escalating climate change. This is not out of some moral sense of sharing, beneficence, or charity; this is entirely in our own, whole-animal, selfish interest. The trajectory we are on is bad for everyone, including the rich. Affluent people who still think their money will enable them to "opt out"—as the wealthy have through history—are delusional. There is no real wealth on an ecologically degraded planet and no real security on an economically divided one.
So for our own sakes, for our own liberation if you will, the wealthy need to "come home." This means putting a stake down, committing to a place and its people. And the rest of society has to figure out how to invite the reachable wealthy home. Instead of attacking and shaming—or treating us as an alien race apart—we must reach out to the wealthy as lost relations and engage them.
CGP: And you've seen from years of experiments in your own city neighborhood that this is possible and makes everyone happier?
CC: Yes, I've personally felt inspired and enlivened from being part of local community efforts to build a resilient, equitable, and healthy neighborhood. I'm part of local food solutions, a time exchange network, and an active resistance movement to an unnecessary gas pipeline project. I feel more rooted in the real wealth of community and neighborly support. I'm hoping that Born on Third Base inspires people to "come home" and, if they have economic resources, to bring this wealth home.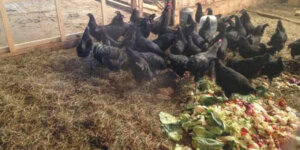 When you think of a typical farm, you probably think of going out to feed the animals with a bucket of scraps. This has been one of the most common ways to recycle food for many years and helps reduce your waste footprint. However, composting with the help of animals is another technique used on…
Read More