Chelsea Green: In the Media 2016
Oh, 2016. Where did the time go?
Each year, Chelsea Green receives hundreds of mentions (well over 1000 in 2016) in the media both big and small. From interviews, to excerpts, to opinion pieces by authors we're always working to make sure that the mission and message of each book is spread far and wide.
We looked back at some of those media appearances and selected a few that are worth revisiting—from National Public Radio's Splendid Table (two books and two authors!) and Living on Earth, to the Los Angeles Times, New York Times, and The Nation.
We hope you enjoy them as much this time around as we did the first time!
---
Splendid Table interview with Mike Shanahan, author of Gods, Wasps, and Stranglers, which was also featured as Favorite Food Book for 2016 by the host, Lynne Rosetto Casper. Splendid Table also interviewed Gordon Edgar, author of Cheddar, which was published at the end of 2015.
One of our favorite websites and interviewers is Dr. Joseph Mercola. In this interview he talks with Patricia Daly and Domini Kemp, authors of The Ketogenic Kitchen.
One of the first books out of the gate this year was The Carbon Farming Solution by Eric Toensmeier. He got some nice attention at the end of 2015 with piece on NPR, and that carried well into 2016. The New York Times featured Toensmeier in a sweeping piece about how soils were a key focus to solving our climate crisis (the story also featured Chelsea Green author Courtney White, of Grass, Soil, Hope.). Later in the year, NPR's Living on Earth featured Toensmeier in a program that aired just after COP22, the follow-up to the Paris Climate Talks, where further discussion occurred about how to sequester more carbon through better agriculture practices.
Food 52 featured Sandor Katz (Art of Fermentation, Wild Fermentation, 2nd Edition) as one of 13 people to know in the food world right now! We couldn't agree more.
One of our fall books, Michael Abeleman's Street Farm, was featured on the popular KQED Forum out of San Francisco.
We had three books featured in The Nation this year:
Finally, we had three books featured in the Los Angeles Times including The New Bread Basket by Amy Halloran, Born on Third Base, and The New Wildcrafted Cuisine by Pascal Baudar.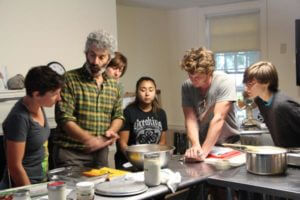 Article by Alex Green. Originally posted on Publishers Weekly. Follow them on Twitter @PublishersWkly and Facebook at @PubWeekly From the content of its books to the paper it prints on, Chelsea Green Publishing is known for its focus on sustainability. But if that word suggests that operations at the Vermont-based publishing house move at a modest…
Read More