Snapshots from the New Economy
The top 400 wealthiest people in America own more riches than the bottom 180 million. The system is broken. But we don't need to look far to find a better one.
Do you shop at a food co-op? Then you're supporting a democratically-owned corporation that works to serve its members instead of distant shareholders focused merely on quarterly profits.
Do you bank at a credit union instead of a multinational corporate behemoth like Bank of America or Wells Fargo? Then you're contributing your savings toward loans that go to help businesses, home owners, and people like you right in your community.
When you turn on the lights, does your power come from a municipally owned utility? If you live in Jacksonville, Florida, or Seattle, Washington it does. Now, what if you and your neighbors got together to demand your utility generate renewable energy? They'd have to listen, because you are their primary stakeholders.
Do you buy King Arthur Flour, rent cars from Avis, or buy books from Chelsea Green? If you do, you're supporting companies that are owned by their employees, which means that the profits go to the workers — in other words to the people who make them possible.
Do you own a house through a community land trust — which made that house affordable, and will make sure it stays affordable when you decide to sell it. Or do you participate in a CSA or herd share that allows you to support a local farmer while making sure you get the fresh food you want? Or maybe when a restaurant or bookstore in your town threatened to go out of business you pitched in with some cash in return for discounts on your future purchases (the Slow Money model).
In Ohio, a state ravaged by the exodus of manufacturing, yet another example of a new-economy business model is starting up. The largest worker-owned greenhouse in the state is being financed by Evergreen Cooperatives, a unique partnership between public institutions, city government, and private nonprofits. The greenhouse will sell fresh produce to the hospitals and universities in the area, cutting the carbon footprint of those goods, and bringing good, green jobs to a neighborhood that needs them.
Gar Alperovitz is the founder of the Democracy Collaborative, a key partner in the project, and Gar has long been one of the leading champions of the worker-owned shift the economy so desperately needs. Next month his book What Then Must We Do? will explain how we must democratize wealth and build a community-sustaining economy from the ground up. Sustainable businesses are already changing lives and making money flow where it's needed most. All we need is more of them.
These businesses define success as something deeper than profit. In doing so they're living examples of what the new economy looks like. It's not so complicated, it's just what happens when business comes back down to earth.
(Illustration by Adrian J. Wallace)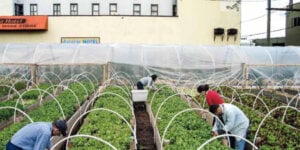 What if farms and food production were integrated into every aspect of urban living—from special assessments to create new farms and food businesses to teaching people how to grow fruits and vegetables so farmers can focus on staple crops. Urban farming is a story of recovery, of land and food, of people, and of the…
Read More