Save 25% on The Organic Seed Grower
If you could take a time machine back eight years, you might have heard Chelsea Green making the announcement that the first comprehensive book on growing seeds commercially was on its way to your bookshelf. But life happens, and the project hit nearly a decade of delays on its way to completion.
Ladies and gentlemen, that long-awaited and much-anticipated book, The Organic Seed Grower by John Navazio, is finally available, and will be on sale for 25% off this week.
Editor Ben Watson has been along for the entire journey.
"A lesser author, and a lesser publisher, would have called it quits on this project years ago. But the subject is one that's important enough to take the time that it takes. If anything, with the phenomenal growth in the organic food sector, this book is even more relevant and more critically needed than it would have been if we'd published it eight years ago. In hindsight, the timing was almost perfect."
Funded by a grant from the Northeast SARE program, The Organic Seed Grower is an in-depth manual for the serious vegetable grower who is interested in growing high-quality seeds using organic farming practices. It is written for both serious home seed savers and diversified small-scale farmers who want to learn the necessary steps involved in successfully producing a commercial seed crop organically..
Early praise for the book from Suzanne Ashworth, author of Seed to Seed, says that, "John Navazio has taken organic seed production to a higher level with extensive information on selection, genetic integrity, isolation distances, and seedborne diseases. Although his focus is on plant breeders and commercial growers, much of the information is also applicable to small-scale farms producing seed for on-site use."
It's been a long time coming, but the best book on growing seeds is finally here! Get a copy for 25% off this week.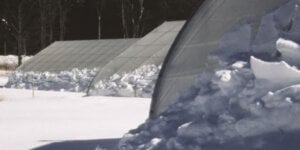 It might seem like a myth that you can grow food in an unheated greenhouse during the winter, but we're here to prove you wrong. As long as there is sunlight there are several techniques you can use to keep your crops warm enough to harvest well into the cold weather. The key? Layers. Just…
Read More