Order Heirloom Seeds from Carol Deppe, Author of The Resilient Gardener
…And order them now! Quantities of these special seeds are extremely limited.
Carol Deppe, author of The Resilient Gardener and Breed Your Own Vegetable Varieties, sells packets of the seeds she raises. With a focus on the survival crops she describes in The Resilient Gardener, her seed catalog doesn't read like your typical, flowery missive from Burpee or Seeds of Change. Deppe carefully and simply explains the virtues of each crop, such as the ease of drying possessed by 'Costata Romanesco' Squash, and the delicious, distinct flavor of 'Black Coco' Bush Dry Beans, ("…bland just doesn't cut it for me.").
Deppe also hints at a tiny bit of the story of developing each crop, which she has carefully bred to its current form. And reminds growers of qualities you might not be familiar with if you typically purchase large-scale commercial seed.
The entry for 'Gaucho' Bush Dry Beans cautions, "I'm expecting about 1% off types from this year's crop. Just cull anything that dries down much later than the Gauchos or is a little viney instead of bushy. Give your Gaucho dry beans as much isolation as you can from your Phaseolus vulgaris green bean types, but don't worry overly much about purity. Gaucho wasn't pure when I got it, as is common with heirloom beans."
If you've read The Resilient Gardener, your mouth is probably already watering at the chance to get the perfect corn to grow for Carol's Universal Skillet Bread, or her favorite snack food, pop beans.
Download a PDF of the Fertile Valley Seeds catalog here (ordering instructions are on page one).
Also available as a Word document, and in Rich Text Format.
And just to reiterate, quantities of these seeds are extremely limited. So don't wait too long to place your order.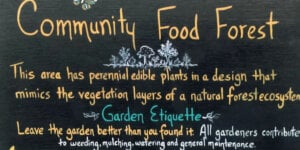 More than 80 percent of the US population now resides in urban areas. This number is projected to rise in the next few decades. Finding ways to maximize use of existing open space is imperative, and increasing access to food through sustainable management of edible landscaping is one important approach among many that are underway.…
Read More