Simon Fairlie, author of Meat: A Benign Extravagance, wrote the following piece, which appeared originally online at Global Food Security.
I recently spent several years investigating the environmental impact of livestock production for a book called Meat: A Benign Extravagance, which stimulated the debate on the real carbon foot print of rearing animals for food, particularly when the Guardian's George Monbiot wrote his 'Let them eat meat – but farm it properly' critique.
The first lesson I learnt was not to trust any of the statistical clichés that are passed around like a relay baton. For example, the commonly cited figure of 100,000 litres of water required to produce a kilo of beef is nonsense: it refers to the total amount of rain falling upon the land grazed by the cow, rain which would fall – and drain away or be transpired or excreted by living creatures – whether or not the cow was on the field.
Similarly, the inefficiency of livestock at converting vegetable food into animal protein is habitually exaggerated by opponents of meat eating. Globally, for every kilo of meat or dairy protein produced, approximately 1.4 kilos of vegetable protein are ingested by livestock. Since meat protein is viewed by many consumers and food analysts to be superior, and since meat provides variety in a diet, this level of inefficiency is arguably acceptable.
The FAO's calculation that livestock are responsible for 18 per cent of anthropogenic carbon emissions is, at the very least, a heavily massaged statistic. Most of the CO2 emissions they attribute to all livestock are derived by applying out of date emissions for Amazon deforestation caused by beef cattle which comprise barely one per cent if the world's livestock. Their figures for methane and nitrous oxide take account of the emissions caused by livestock, but do not factor in the replacement nitrous oxide and methane emissions that would occur if we did not farm livestock, such as nitrous oxide from the fertilizer needed to replace manure to produce crops, or the methane emitted by wild animals or forest fires resulting from undergrazing.
The correct figure is more likely to be 10 per cent or even less. So why do the FAO economists plug the inflated figure of 18 per cent? It appears to be because they want to depict extensive livestock, especially cattle, as the villain of the piece and so argue that intensive farming of pigs and poultry in factory farms is a more viable alternative.
Less is more
Once one has winnowed out all this anti-livestock and anti-ruminant bias, the fact remains that the model of livestock farming currently pursued in the industrialized countries is flagrantly unjust and unsustainable.
To feed the entire world the levels of meat currently enjoyed in the USA, Europe and the OECD countries would require massive quantities of grain to be fed to livestock wastefully at a conversion efficiency of about four to one.
My key conclusion is that within every agro-economy there is a certain amount of meat – what I call default livestock production – that has very little environmental impact because it is basically a byproduct of an agricultural system designed to produce grains and other vegetable products. This includes meat from livestock such as pigs and poultry fed on crop residues and food waste, cattle, sheep or goats fed on grass or legumes that are an integral part of the arable rotation, and animals fed on surplus grain necessary to provide a buffer in the event of a poor harvest.
Any meat consumption above the default level requires dedicated feed crops to be fed to livestock at an inefficient rate, involving extravagant use of land, fertilizer and water. To provide this diet for all of the world's nearly seven billion people is not sustainable; and to feed, as we do, vast quantities of grain to livestock to provide luxury goods for consumers in industrialized countries is manifestly unjust when a billion people in the world are undernourished.
Check out Meat: A Benign Extravagance in our bookstore now.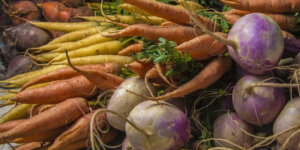 If you love to cook with fresh produce but happen to live in a climate where it's nearly impossible to access during the winter months, we feel ya! Here in the northeast, chilling winds and heaps of snow make it hard to leave the house, let alone grow fresh produce, but that doesn't mean we…
Read More