Blog Action Day 2010: Water
We're taking part today in Change.org's Blog Action Day 2010, supporting the UN's efforts to bring clean, safe water to millions.
"Blog Action Day is an annual event that unites the world's bloggers in posting about the same issue on the same day. Our aim is to raise awareness and trigger a global discussion around an important issue that impacts us all." This year's topic is Water.
We're highlighting water with the following excerpt from our marvelous title Water: Use Less, Save More, by Jon Clift and Amanda Cuthbert. Our hope is that this post (in combination with the book) will inspire others to take simple steps at home to reduce their water usage in order to preserve this precious resource for those who need it desperately around the world.
****************************
Water. We all need it, we can't live without it, and we are using more and more of it.
Although we appear to have plenty of rain in the United States, our water resources are under pressure. We use 127% more water today than we did in 1950.
Our population is growing
Our climate is changing
Our lifestyle demands more and more water
Quite simply, we are consuming too much. Our demand for water increases yearly, to the extent that no matter what the water companies do, eventually they will not be able to keep up. Water also requires huge amounts of energy, both to treat it and pump it to our houses, so our thirst for water is damaging our planet in more ways than one. The good news is that there are many simple things we can do at home and at work to reduce our consumption of water. As well as helping to secure our water supply both for ourselves and for future generations, by doing these things we also benefit in many other ways.
By cutting down our water use, we can:
Save money, especially if on a water meter
Reduce the possibility of water shortages and summer water rationing
Reduce emissions of greenhouse gases responsible for climate change
Reduce the amount of energy and chemicals used in the treatment and pumping of water
Reduce damage to wildlife habitats in wetlands and rivers
Reduce the fall in groundwater levels, thereby reducing stress on woodlands
Water: A Global View
Much of the world already faces acute water shortages – from the poor areas of Central Asia, where rivers and lakes have shrunk or dried up, to the wealthy southwestern states of the United States, where the once mighty Colorado River now no longer even reaches the sea.
China is just one example: due to a rapidly expanding population and economy, currently over 200 cities, including the capital, Beijing, face crucial water shortages. Here the groundwater level has been dropping by about 6 feet every year, and now over a third of the city's wells have dried up. An estimated 25 million refugees are displaced annually by contamination of rivers and river basins, more than are forced to flee from war zones. By 2025 there will be another 2 billion more people requiring food and water.
We are very lucky in the United States. Currently we have enough water for everybody, provided we look after this precious resource – although a growing population and climate change will undoubtedly place an increasing strain on our water supplies. Just a few of the measures suggested in this book can make a lot of difference, and also save you money.
Conserve water – it's all we have.
Jon Clift and Amanda Cuthbert are the authors of Water: Use Less, Save More, available now.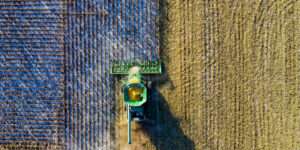 For those who aren't in the know, it may seem like all farmers are created equal, but that's simply not the case. In fact, there is such a wide variety of farmers that it's nearly impossible to put a label on them. But that doesn't stop organizations from trying. The following is an excerpt from…
Read More