Value Your Neighborhood Bees and Fight Colony Collapse Disorder

The alarming decline in the bee population caused by the widespread and mysterious Colony Collapse Disorder has disrupted millions of dollars worth of agriculture around the world, and if it continues, could threaten the food system as we have always known it.
Scientists have attributed CCD to a variety of factors, including the Varroa Destructor mite, which may have got a foothold due to building chemical resistance and evolution.
Besides breeding your own bees organically in your apartment, what can you do? A couple of things. From Herb Companion:
In 2006, beekeepers in the United States (and other parts of the world) noticed a dramatic decline in honey bee populations, a phenomenon now known as "colony collapse disorder." The problem affects more than local beekeepers' profits. Acting as an invisible but critical link to our food supply, bees pollinate about $15 billion worth of U.S. seeds and crops annually, according to a Cornell University study, including more than one-third of our nation's food supply. In fact, most of our vitamin- and mineral-rich food—including berries, almonds and fruits—would disappear without bees.

[…]

What can we do? First, avoid using pesticides, [Dr. Jay] Evans says. Also, although about 1 million blossoms are needed for bees to make a small amount of honey, feeding your local bees with fresh herbs is a positive step. [Ross] Conrad [author of Natural Beekeeping] suggests planting bee-friendly forage, such as mint, cilantro, coriander, thyme and rosemary, in your garden. To keep your local bees healthy, you also can feed bees honey, the preferred food for bees, or herbs, such as chamomile, thyme and red clover, made into a tea and mixed with sugar syrup.

Don't be afraid of your neighborhood bees—instead, learn to value them. Rather than destroy their nests, create a solitary box for them to set up home. (Visit http://www.nrcs.usda.gov/feature/backyard/wildhab.html for more information.) Remove them only if they've become a true nuisance by contacting a local beekeeper.
Related articles: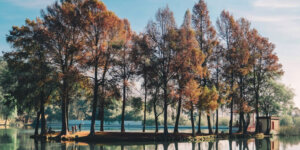 Trees. They are all around us. They come in all sorts of different shapes, sizes, and colors. They each have a unique scent, a unique feel, a unique purpose. But have you ever really thought about what immense life forces they are? How much power they hold and how much they give to us? The…
Read More