Locavore Movement Creates Wave of Small Farm Startups

A bit of good news for the agriculture sector. The growing popularity of the locavore movement has led to a surge in small farmers.
I can personally attest to this; I sit not ten feet away from Makenna Goodman, Chelsea Green's resident not-organic-but-not-conventional farmer.
All I can say is, we need more of this. More local and appropriate-scale farms. Less gigantic agricultural behemoths whose only concern is the bottom line at the expense of nutrition, fair labor practices, sustainability, and the humane treatment of animals.
From VermontBiz.com:
Vermont's newest business startups are coming from a surprising sector of the economy not related to technology, manufacturing or tourism. The state, which boasts the highest percentage of people who buy locally grown food, is seeing a surge in small farmers. They say the growing cost of food shipped from California and elsewhere, coupled with concern about America's use of gasoline and an overall concern for food safety is spurring local agriculture.

While dairy farming remains the most important sector of the state's agricultural economy with 85 percent of the gross farm income, local food production is on the upswing. Vermont grown foods are now visible at local supermarkets and cooperatives, at farmers markets, farm stands and in the explosion of CSAs (Community Supported Agriculture). As a result, an increasing number of people are opening small farms to produce the foods Vermonters want to purchase. The industry is sometimes referred to as sustainable agriculture or the localvor movement.

"It's interesting and exciting to see the reemergence of a lot of local food production," says Agricultural Commissioner Roger Allbee. He sees several localvor hubs in Hardwick, the Intervale in Burlington, St Johnsbury and White River Jct. emerging from this new industry.

Currently the state has 6,500 farms and counts anyone grossing over $1,000 annually as a farmer. The majority of food producing farms in the state other than dairy have less than 50 acres and the majority gross less than $50,000, said Allbee.

Currently the state's dwindling dairy census shows 1,096 farms. Dairying is a $2 billion business. Allbee has no figures for the aggregate dollar value of sustainable agriculture.

The growing number of small farms, said Allbee is the result of "a reemergence of people actively involved in wanting to have access to local foods, There's a sense of community, wanting to know where their food comes from."

A national farm census seems to support the growth of small local food farms. A Department of Agriculture report from early February says "the number of farms in the United States has grown four percent and the operators of those farms have become more diverse in the past five years,"

The census figures "show a continuation in the trend towards more small and very large farms and fewer mid-sized operations. Between 2002 and 2007, the number of farms with sales of less than $2,500 increased by 74,000. The number of farms with sales of more than $500,000 grew by 46,000 during the same period."
Read the whole article here.
Related Articles:
GREENWASHING ALERT: Frito-Lay Co-opts Local Food Movement, and More on the Way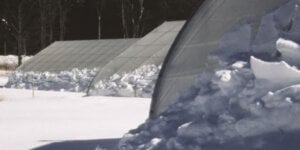 It might seem like a myth that you can grow food in an unheated greenhouse during the winter, but we're here to prove you wrong. As long as there is sunlight there are several techniques you can use to keep your crops warm enough to harvest well into the cold weather. The key? Layers. Just…
Read More