In the 1960s, there was the Back to the Land movement. And in the 2010s, it's happening again. Make no mistake about it–farming is a tough life (in the best way). But like the 60s, young people these days are seeking it out.
Community Supported Agriculture is one reason–besides the growing movement towards farming–the chasm between urban and rural life is beginning to a close. These programs propose brilliant partnerships between farmers and nearby consumer as a way to cut out the middle man, and get food right from the plant to the plate.
Are you thinking of starting your own CSA? Here's your guide.
The following is an excerpt from Sharing the Harvest: A Citizen's Guide to Community Supported Agriculture
Acquiring Land

People who are thinking about starting a CSA often ask how many shares will support a farm and how much land will that require? The second part of the question is easier to answer than the first: Many farms are able to supply at least twenty shares per acre. The problem of scale is more complex, and closely linked to intensity of production. A bio-intensive grower with enough labor available can make a living on two acres. A more mechanized style of farming requires fewer helpers but more land. For a single farmer to make enough money to live on, the minimum number of shares is around one hundred if the CSA is the only market. The Gregsons of Island Meadow Farm in Washington State support themselves on the production of two acres of vegetables. They sell around thirty rather gourmet and modestly sized shares and have other markets as well. In interviewing farms for the chapter on "CSAs That Quit" (chapter 23), I found that a major reason they gave for quitting was inadequate income. Many of those CSAs were using a lot of hand labor and had thirty shares or fewer. At the other end of the spectrum, several much more mechanized farms with four hundred shares and up seem to be making a decent living and have funds to continue to capitalize their farms. But no one in his or her right mind would start a CSA with four hundred shares! That is a scale one has to grow into. Anything over two acres requires the use of mechanical equipment; the choice of the appropriate level of technology is a critical factor in determining whether you work yourself to death for a pittance or run an efficient and at least modestly profitable farm enterprise.

New farmers or consumer groups who want to start a CSA face the challenge of finding a suitable piece of land. Fortunately, several good books tell how to find land in the country, with detailed advice on what questions to ask and how to get through the legalities of purchase with minimum legal costs. Finding and Buying Your Dream Home in the Country by Les Scher, despite its silly title, is a helpful book. Vern Grubinger's book, Sustainable Vegetable Production from Start Up to Markets, highly recommended for all new produce farmers, contains an excellent summary on finding land specifically for vegetables.

As Grubinger stresses, the quality of the soil is more important than the state of the buildings. Soil quality is crucial for organic production. While most soils can be improved by building up organic matter with compost and cover crops, contamination with heavy metals and persistent chemicals such as dioxin and PCBs cannot be eliminated. You should learn as much as you can about the history of the use of a piece of land, since testing is expensive. What was grown there? How was it produced? Was an apple orchard treated with arsenicals, DDT, or mercury? Is there a good source of water? How pure is the water supply? Do the neighbors use chemicals, air blast sprayers, or aerial spraying? Knowing specifically what to test for reduces the cost. Talking to neighboring farmers and examining the soil maps at the county extension office or the Natural Resources Conservation Service office will provide much of the information you need about the property you are considering and adjacent properties.

Residues of some pesticides are distressingly persistent. On August 15, 1996, the Connecticut State Department of Consumer Protection tested produce grown at Holcomb Farm. The CSA managers were shocked when the results showed residues of chlordane and DDE, a breakdown product of DDT. The pesticides were used on the tobacco grown at Holcomb Farm back in the early 1970s, before they were banned. While the levels of the residues were low—at or below the Environmental Protection Agency "action level"— the Hartford Food System, which oversees the Holcomb Farm, enlisted the advice and help of a wide range of experts and agencies, sharing the information collected with the CSA members. Dr. Ted Simon, a toxicologist from the Center for Disease Control (CDC), volunteered to conduct a formal risk assessment. He came to the conclusion that "the lifetime risk of cancer from consuming about eight ounces per day of Holcomb Farm vegetables throughout the twenty-week growing season for thirty years would be about one in a million." According to John Cuddy, a bioremediation specialist in Wisconsin, the organic practices used on the farm seem to be the most effective means for stimulating the microbial activity that reduces chemical residues to harmless compounds. Similar residues were found on another organic farm in Connecticut even after thirty years of organic management.

Some aspects of land acquisition are particular to CSA farms. The location of the land is important to consider. If your plan is to have pickup at the farm, you will need to be within a half hour's drive of the population you hope to serve. CSAs that deliver to pickup sites in town can be farther away: the Decaters truck their produce three and one-half hours from Live Power Community Farm to San Francisco. Several farmers have reported CSA members are harder to recruit in rural areas, though rural Iowans, even farm families, are joining new CSAs in that state. Urban and suburban dwellers are often more likely candidates. Land purchase within half an hour of almost any city may be prohibitively expensive. Leasing is a possible alternative. If you find land you can lease, the owners need to understand that a CSA is not the typical farming arrangement. Agricultural lease agreements are usually made for conventional production systems, where the farmer plows the ground, plants it, puts down herbicides, and then comes back a few months later for harvest. CSA production involves daily attention and potentially large groups of people coming to and going from the farm. A landowner who approached me about land he wanted to rent suddenly switched his tone from friendly to icy when he learned I had two hundred helpers. Courtesy suggests that if the landowner lives near the CSA site, a day of rest from the traffic involved should probably be made part of the agreement.

Developing land for organic management is a long-term investment. The environmental stewardship this offers may appeal to some landowners. If they have any thoughts of selling the land within a few years, however, even the lowest rent would not make your investment in soil building worthwhile, unless you are willing to take a chance, as Bill Brammer did by farming land slated for development in San Diego. The best arrangement is a clearly written lease for a term of three to five years, giving the CSA the option of first refusal and applying the rent toward the eventual purchase of the land. The lease should also include consideration of any improvements the CSA makes on the property. The E. F. Schumacher Society has published a booklet titled A New Lease on Farmland, which suggests how such improvements can be valued so that both parties get a fair deal.

Where leasing is the best or only alternative, CSAs should consider asking for a long-term rolling lease to ensure that they have adequate notice before being forced to move. Jennifer and John Bokaer- Smith have a five-year rolling lease with the EcoVillage at Ithaca, Inc. The section of the lease describing its term reads:

This Lease shall be a five-year rolling Lease.
The Term shall commence on May 1, 1997, and shall continue in full force and effect until May 1, 2002.
The Lease shall be automatically renewed for one additional year, to a maximum of five years, on May 1 of each year succeeding the commencement of this Lease.
Termination of the Lease shall be effected only by written notice given at least six months prior to the rolling renewal date. Such termination shall have no force and effect until five years from the date of notice.

The USDA Farmers' Bulletin #2163, "Your Farm Lease Checklist," contains all the clauses you should think about including. The Pennsylvania State Cooperative Extension's bulletin, Guidelines for Renting Farm Real Estate in the Northeastern United States, has work sheets for calculating the rental fee. There are probably similar guides to agricultural rentals in other parts of the country.

While going into debt is not a good idea, borrowing money from a bank may be the only way for some farms to obtain funds to purchase farmland. Many rural communities have banks that specialize in agricultural lending. Local farmers or the cooperative extension should be able to tell you which banks to approach. A careful business plan is a basic requirement for any commercial loan. A list of CSA members who are committed to buying your farm products should be proof that you have a market.

Resources are available to help you develop a business plan. In some states, the Extension has economic specialists who will help you. The Service Corps of Retired Executives (SCORE), a national network of volunteer business executives and professionals, offers technical and managerial counseling to small businesses, such as farms. (For information on your local chapter, contact the national SCORE office at (800) 634-0245.) The SARE manual, Building a Sustainable Farm Business is a thorough guide to writing a business plan. In Massachusetts the New England Small Farm Institute (NESFI) offers excellent courses such as "Exploring the Small Farm Dream." An advanced course in Holistic Resource Management could help you create a plan that is both convincing to a lender and truly useful for your farm's decision-making process.

The Federal Farm Service Agency (FSA) serves as the lender of last resort, should commercial banks turn you down. The FSA is supposed to reserve some of its funds for beginning farmer loans. (A beginning farmer is someone with less than ten years' experience.) In addition, a few states, such as Iowa and Nebraska, have "aggie bond" programs to encourage loans to new farmers. Dan Looker's Farmers for the Future documents creative ways in which the truly determined can get into farming. Holding Ground: A Guide to Northeast Farmland Tenure and Stewardship by Andrea Woloschuk, Annette Higby, and Kathy Ruhf provides a wealth of information on alternatives to conventional ownership, with many case studies, decision trees for farmers and landowners, and sample long-term leases. Their introduction emphasizes the urgent need to "rethink farmland tenure."

We need a new ethic that fosters farmland access, security, affordability and investment. . . . New approaches and tools serve to save agriculture and foster farming in our region in three ways. First, alternatives to buying land offer economic security to new and developing farmers. Eliminating substantial down-payment requirements and enormous debt can make a developing farm operation more economically viable. Second, providing alternative ways for farmers to acquire land can help preserve the working landscape and associated amenities. Third, secure tenure agreements can foster long-term stewardship of the natural resources of the farmed property.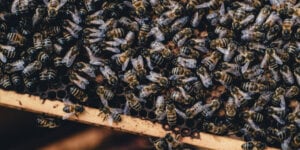 Spring is here and I don't know about you, but I can't wait to get started on all of the projects I mapped out during the cold winter months – including trying my hand at incorporating bees into my homesteading adventure! As a new-bee (get it?!), I need help to get started so I did…
Read More