Get 100 MPG, Cut Emissions by 80%, and Double Your Horsepower

Fast Company published an article a while back that deserves revisiting. It's about a mechanic in Wichita, Kansas named Jonathan Goodwin. He doesn't have an engineering degree. He never went to college. He never graduated from high school, yet he's been able to achieve performance and conservation feats with automobiles that "Detroit" has long said was impossible.
From the article:
America's most revolutionary innovations, it has long been said, sprang from the ramshackle dens of amateurs. Thomas Edison was a home-schooled dropout who got his start tinkering with battery parts; Chester Carlson invented the photocopier in his cramped Long Island kitchen. NASA, desperate for breakthroughs to help it return to the moon, has set up million-dollar prizes to encourage private citizens to come forward with any idea, no matter how crazy. As the theory goes, only those outside big industries can truly reinvent them.

Goodwin is certainly an outsider. He grew up in a dirt-poor Kansas family with six siblings and by age 13 began taking on piecework in local auto shops to help his mother pay the bills. He particularly enjoyed jamming oversized engines into places no one believed they'd fit. He put truck engines inside Camaros, Grand Nationals, and Super Bees; he even put a methanol-fueled turbocharger on a tiny Yamaha Banshee four-wheeler. "We took that thing from 35 horsepower to 208," he recalls. "It was crazy. We couldn't put enough fins on the back to keep it on the ground." After dropping out of school in the seventh grade, he made a living by buying up totaled cars and making them as good as new. "That," he says, "was my school."

[…]

If Goodwin is an artist, though, his canvas has been the Hummer. His first impression of the thing was inauspicious. In 1990, he bought an H1 in Denver and began driving it back to Kansas. Within 50 miles, the bolts in the transmission shook loose, forcing him to stop to fix it. "By the time I made it home, after three roadside repairs, I pretty much knew that the Hummer was not all it should be," he told me. He didn't think much of the 200 horsepower engine, either, which did "zero to 60 in two days. It was a piece of junk."

So Goodwin decided to prove that environmentalism and power could go together–by making his new lemon into exhibit A. First, he pulled the gas engine so he could drop in a Duramax V8, GM's core diesel for large trucks. Diesel technology is crucial to all of Goodwin's innovations because it offers several advantages over traditional gasoline engines. Pound for pound, diesel offers more power and torque; it's also inherently more efficient, offering up to 40% better mileage and 20% lower emissions in engines of comparable size. What's more, many diesel engines can easily accept a wide range of biodiesel–from the high-quality stuff produced at refineries to the melted chicken grease siphoned off from the local KFC.

[…]

After five days' worth of work, the Hummer was getting about 18 mpg–double the factory 9 mpg–and twice the original horsepower. He drove it over to a local restaurant and mooched some discarded oil from its deep fryer, strained the oil through a pair of jeans, and poured it into the engine. It ran perfectly.

[…]

But Goodwin wanted more. While researching alternative fuels, he learned about the work of Uli Kruger, a German who has spent decades in Australia exploring techniques for blending fuels that normally don't mix. One of Kruger's systems induces hydrogen into the air intake of a diesel engine, producing a cascade of emissions-reducing and mileage-boosting effects. The hydrogen, ignited by the diesel combustion, burns extremely clean, producing only water as a by-product. It also displaces up to 50% of the diesel needed to fuel the car, effectively doubling the diesel's mileage and cutting emissions by at least half. Better yet, the water produced from the hydrogen combustion cools down the engine, so the diesel combustion generates fewer particulates–and thus fewer nitrogen-oxide emissions.

[…]

Goodwin began building on Kruger's model. In 2005, he set to work adapting his own H1 Hummer to burn a combination of hydrogen and biodiesel. He installed a Duramax in the Hummer and plopped a carbon-fiber tank of supercompressed hydrogen into the bed. The results were impressive: A single tank of hydrogen lasted for 700 miles and cut the diesel consumption in half. It also doubled the horsepower. "It reduces your carbon footprint by a huge, huge amount, but you still get all the power of the Duramax," he says, slapping the H1 on the quarter panel. "And you can feed it hydrogen, diesel, biodiesel, corn oil–pretty much anything but water."

[…]

Two years ago, Goodwin got a rare chance to show off his tricks to some of the car industry's most prominent engineers. He tells me the story: He was driving a converted H2 to the SEMA show, the nation's biggest annual specialty automotive confab, and stopped en route at a Denver hotel. When he woke up in the morning, there were 20 people standing around his Hummer. Did I run over somebody? he wondered. As it turned out, they were engineers for GM, the Hummer's manufacturer. They noticed that Goodwin's H2 looked modified. "Does it have a diesel engine in it?"

"Yeah," he said.

"No way," they replied.

He opened the hood, "and they're just all in and out and around the valves and checking it out," he says. They asked to hear it run, sending a stab of fear through Goodwin. He'd filled it up with grease from a Chinese restaurant the day before and was worried that the cold morning might have solidified the fuel. But it started up on the first try and ran so quietly that at first they didn't believe it was really on. "When you start a diesel engine up on vegetable oil," Goodwin says, "you turn the key, and you hear nothing. Because of the lubricating power of the oil, it's just so smooth. Whisper quiet. And they're like, 'Is it running? Yeah, you can hear the fan going.'"

One engineer turned and said, "GM said this wouldn't work."

"Well," Goodwin replied, "here it is."
The article goes on to describe Goodwin's frustration with the large automakers. The full article is worth reading, but here's a satisfying bit:
For his part, Goodwin argues he's merely "a problem solver. Most people try to make things more complicated than they are." He speaks of the major carmakers with a sort of mild disdain: If he can piece together cleaner vehicles out of existing GM parts and a bit of hot-rod elbow grease, why can't they bake that kind of ingenuity into their production lines? Prod him enough on the subject and his mellowness peels away, revealing a guy fired by an almost manic frustration. "Everybody should be driving a plug-in vehicle right now," he complains, in one of his laconic engineering lectures, as we wander through the blistering Kansas heat to a nearby Mexican restaurant. "I can go next door to Ace Hardware and buy a DC electric motor, go out to my four-wheel-drive truck, remove the transmission and engine, bolt the electric motor onto the back of the transfer case, put a series of lead-acid batteries up to 240 volts in the back of the bed, and we're good to go. I guarantee you I could drive all around town and do whatever I need, go home at night, and hook up a couple of battery chargers, plug one into an outlet, and be good to go the next day.

"Detroit could do all this stuff overnight if it wanted to," he adds.
Large automakers have shown an unwillingness to innovate beyond luxury comforts (and safety) for the occupants of their vehicles. Our hope for a 100 MPG automobile should not reside with them. However, why hasn't Goodwin's design (or something simliar) been put into production by a new startup? I imagine there are venture capitalist just aching to fund the 100 MPG (or 100% electric) family-sized car. The proof exists. Why are people not moving on this?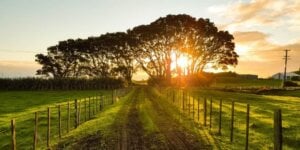 In Call of the Reed Warbler, Charles Massy's stunning observations of interaction between nature and society is nothing short of eye opening. "By arrogantly having placed ourselves outside the functional operating parameters of Earth's systems, we now see nature and the Earth as separate from us and so just available for use – while all the time…
Read More