Actually, this isn't the latest, since the May newsletter is online, but here are some tidbits from their April newsletter that struck my particular interest.
In last month's newsletter we raised the concern that removing crop residues for use in ethanol production could reduce soil organic matter levels.

Soil scientist Wally Wilhelm, with the USDA Agricultural Research Service laboratory in Lincoln, Nebraska, helped shed some light on the subject. He has reviewed years of research that touches on the question.

Wilhelm says that we don't know with certainty how much residue could be removed without reducing soil organic matter levels, but based on the research, his best guess is that in most instances we would need to leave from one-half to two-thirds of crop residue to maintain soil organic matter levels.

Higher organic matter levels are associated with more productive soil and increased soil water holding capacity, which contributes to drought tolerance. In addition, increasing soil organic matter levels reduces atmospheric concentration of carbon dioxide – a "greenhouse gas" that contributes to global warming and climate change.
Man alive, this solving global warming thing is not easy! For all those of us (myself included) who want to be able to have modern lifestyles that include the convenience of seemingly unlimited gallons of pumpable liquid fuel powering our fancy dancy automobiles, the miracle technological saving grace just doesn't seem to be out there. We're going to have to suck it up and admit that our lifestyles are going to have to change very seriously. Ethanol: better than petroleum. Ethanol: just a bit of stop-gap on the way to sustainability. Hmmm. I hate to say it, seeing as I drive a diesel car and seek out biodiesel whenever I can find it (speaking of which, kudos to Dan and Whit's for stocking it; my new standard fueling station; if they don't pump it out of their pump, you don't need to drive on it!), but I fear that the same can be said for biodiesel as ethanol. None of which means that these two alternative fuels shouldn't be utilized as much as possible in the meantime, just a necessary reminder that they do not solve the problem.
Value Added Agriculture: Doing It Right for Rural Communities
Policymakers must commit to a balanced approach with value added development for it to really increase rural citizens' prosperity

Valued added agriculture can help create a better future for Rural America – if it is done right and as part of a larger development strategy. But to capture its full potential, we need to ask some core questions.

Who Will Own It? Profits flow to owners. Locally-owned initiatives are better for communities than absentee ownership. We expect pharmaceutical crop production will mostly be on company-owned farms, where the company minimizes liability by ensuring security standards are met. That does not offer much benefit to rural communities.

The ownership question is also important in wind power and biofuels. Government maximizes community benefits by creating incentives for local ownership.

Will It Become a Cheap Commodity? Many farmers want to move beyond production of cheap commodities. Ethanol plants can help by raising the local basis for commodity prices, but corn or switchgrass sold to an ethanol plant is still a commodity and still pretty cheap. And ethanol itself can become a cheap commodity.

Farmers can move beyond commodity production by adding value on their farm through application of knowledge and management. Premiums for organic grains and natural hogs have been more durable than premiums for white corn because it takes a higher level of management to produce natural products. Anyone can plant a different seed, but complex new management systems keep out competitors and protect premiums.

Will the Benefits be Equitably Shared? Broadening the middle class strengthens communities. As more people gain genuine opportunity, they gain a stake. They are able to put down roots and become contributing community members.

The wage structure of ethanol plants has been beneficial, in that regard. Even the lowest paying jobs in ethanol plants have been good jobs that generally pay higher than much of the local pay scale. They've helped build a middle class.

It's also important to broaden opportunities for ownership. If the investment requirements limit ownership to the very wealthy members of a community, the project will contribute less to community vitality than value added initiatives with low capital costs that broaden ownership opportunities. For example, modest capital costs for natural pork production enable beginning farmers to get started as owners. That is good for communities.

Is It One Piece of a Bigger Puzzle? Most important, value added agriculture must be just one part of a broader approach to rural revitalization aimed at making our communities more attractive places to live, engaging youth, developing new leaders, and fostering small business development.

Policymakers must commit to a balanced approach to rural revitalization. As part of that, value added agriculture done right can make a worthy contribution. But if policymakers allow it to crowd out all other investments in our future, we will fall short.

Agree or disagree? Send your opinions or comments to Chuck Hassebrook, 402.687.2103 x 1018 or [email protected]
I, for one, agree. Ownership is a big deal. One of the biggest. John Adams thinks so too, and he's not some blog chump like me, he's a successfull bidness man and published author of a cool book.
CORPORATE FARMING NOTES
Federal court decisions over anti-corporate farming laws have not deterred states in regulating industrial-style livestock production

>> Many so called "experts" have recently opined that the days of anti-corporate farming laws are numbered. This opinion stems from an over-simplified analysis of the fact that a federal judge struck down South Dakota's anti-corporate farming law, commonly known as Amendment E, and that Nebraska is appealing a federal judge's order striking down Initiative 300, the state's constitutional prohibition of corporate farming.

But anti-corporate farming laws, ordinances, and related policies do not seem to be waning, numerically at least. In Pennsylvania, 12 townships and five counties passed anti-corporate farming legislation. In North Dakota, three counties recently adopted rigorous guidelines for industrial livestock facilities in response to efforts to site large operations there.

And while states such as Iowa and Illinois eliminated the rights of counties to use zoning to exercise some control over the type of livestock production in their jurisdiction, in other states like Nebraska and North Dakota, zoning is alive and well. In fact, it is on the increase in North Dakota.

In Missouri, local battles over industrial livestock operations continue to rage. Fourteen counties have passed ordinances restricting the expansion of industrial operations. Nine more counties are exploring similar ordinances.

In Macon County, Missouri, county commissioners approved a health ordinance in late December severely limiting siting of additional industrial operations in the county. Macon County Commissioner Craig Jones said, "One thing that scares citizens to death is to be told that you're going to be living 3,000 feet from one of these operations. I've lived here 50 years, and I don't want to be run out by one of them."

The response of certain agricultural interests was swift and severe, including suggestions that counties restricting livestock facilities might be denied investments in new ethanol and biodiesel plants and pressure on the Missouri Legislature to take away counties' rights to zone livestock confinements.

"Farmers are not effete, tailpipe sniffers," said Missouri Attorney General Jay Nixon, supporter of the local ordinance effort. "When they complain, it's real."

Contact: John Crabtree, [email protected] or 402.687.2103 x 1010 for more information.
People! Wake up! It is possible to fight the corporations! If they can do it in the heartland, heart of supposed conservative politics (but God bless these folks, with this anti-corporate farming stuff at least they are pursuing "conservative" politics that actually conserves something, conservative in the original sense of the meaning) why isn't it happening on the supposed latte-drinking coastal areas? Why can't we in Vermont have an anti-corporate farming law? (Note to wife: would make a great anniversary gift, wink wink.) Corporations are chartered in and by the states, so it seems to me that they can be regulated in and by the states, that interstate commerce clause of the federal constitution notwithstanding.
Organic Food and Farming Statistics

The Midwest needs more organic producers. That was the call issued last month by leaders in the organic farming community at the 17th annual Upper Midwest Organic Farming Conference. The Midwest Organic and Sustainable Education Service (MOSES) shared the following organic farming facts from their conference.

Consumer Demand

* The Organic Trade Association estimates that U.S. consumer demand for organic food has been growing at 20 percent per year for the last 15 years.
* A Consumer Reports survey in 2005 showed that nearly two-thirds of U.S. consumers bought organic products in the last year.
* A Whole Foods Market national survey completed in August 2005 found that 65 percent of Americans had tried organic foods and beverages, up from 54 percent in surveys conducted in 2003 and 2004.
* The Nutrition Business Journal projects U.S. organic food sales will continue to grow at 10-15 percent per year ($2 billion additional sales per year) from 2006 to 2010.

On-Farm Financial Benefits

* The base pay for organic milk is $20 to $23 per hundredweight vs. $13 to 15 per hundredweight for non-organic milk, or about 50 percent higher.
* Farmers raising organic corn and soybeans sell their product at two to three times the price of their conventional counterparts. On February 15, Cashton Farm Supply (WI) was paying $5/bushel for organic corn, three times more than they were paying for non-organic corn ($1.73). Organic soybeans were being sold there for $12 per bushel, more than twice the price of non-organic beans ($5.19).
* The net income in 2004 for organic farmers in Wisconsin was 25 percent higher than non-organic farmers.

Wisconsin, Iowa, and Minnesota Comparisons

* Nationally, Wisconsin is #1 in organic dairy farms, #1 in organic livestock, and #2 in organic corn.
* Minnesota is #1 in organic corn and soybeans produced; Iowa is #3 in organic corn and #2 in organic soybeans.

Source: Compiled by Doug Nopar, MOSES, 507.450.7458, www.mosesorganic.org
Mmmm, food. I'm hungry. I remember once eating a dinner of just only a lot of ears of corn. I can eat corn till the cows come home. Sweet corn, field corn, you name it. My favorite way is to go to the plant out in the field and husk the corn while it's still attached to the stalk, stare that ear in the eye and chomp away, the juice literally as fresh as is possibly possible.
And all the rest at http://www.cfra.org/newsletter/2006_04.htm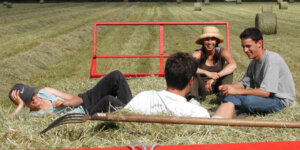 If you haven't been working on a farm since childhood or weren't lucky enough to inherit one from your family, it can be difficult to build one from the ground up.  Farming takes more planning and thinking than meets the eye, but it's not impossible. We've got you covered with how to proceed with your…
Read More