Bush Declares War on Ivory-Billed Woodpecker

Five days after sightings in Arkansas of the ivory-billed woodpecker, a species long believed to be extinct, were confirmed, the Bush administration has placed a bounty on the elusive creature's head, offering a reward of $10,000 to anyone who can bring in an ivory-billed woodpecker in its postmortem state.

"We've been trying to whittle the endangered-species list down since my first day in office, and I'll be gosh-darned if some critter is going to be added to the list on my watch," Bush fumed at a hastily called news conference. "I want that bird gone, and I want it gone now."
After years of persistent reports — many by respected naturalists — of the bird's presence in the Big Woods area of eastern Arkansas, its identity was confirmed on the basis of video footage shot on April 25, 2004, by David Luneau.
Asked by a reporter about the ethics of destroying a rare example of a species long believed to be extinct, Bush replied, "Well, it should have stayed extinct, or we wouldn't have this problem."
Told by another reporter that the creature obviously could not really have been extinct, since once a species is gone it is gone forever, the president replied, "My head hurts."
According to the Cornell Lab of Ornithology, the striking, red-crested bird, whose wingspan can approach three feet, was once a fairly common presence in undeveloped southeastern woodlands, but was driven to the bring of extinction by logging and hunting. It takes about three square miles of mature forest to sustain a breeding pair, and the last confirmed sighting was more than 60 years ago.
A paper about the discovery, co-written by the Cornell lab's director, John Fitzpatrick, was published April 28 in the online version of Science magazine.
In response to the sightings, the Nature Conservancy, the Cornell Lab of Ornithology and other groups have joined forces to form the Big Woods Conservation Partnership. The group aims to protect some 200,000 acres of forest habitat in the area from development over the next 10 years.
Bush noted that protecting 200,000 acres from development would protect 200,000 acres from development.
"We can't have that," he said. "Some of my best friends are developers. I'm talking jobs here — good American jobs for good American people. Hotels, restaurants, theme parks. I'm not sure what a logger is, but if they have anything to do with cutting down trees, and they have money, I'd be glad to talk to them."
As for the alliance that hopes to protect the area, Bush added, "Just let me get my hands on those granola-crunchers. They make me so mad."
At this point, presidential adviser Karl Rove approached the lectern, and whispered something in Bush's ear.
"What?" Bush said. "Who cares if millions of people are devoted bird-watchers, and aboriginal peoples all over the world believe there is a web of life in which all things are connected, and many Americans are beginning to understand that this is essentially true, and that a threat to any component of an ecosystem threatens the global ecosystem as a whole? How many woodpeckers can you see at one time, anyway? Seen one woodpecker, you've seen 'em all. And what the heck's an ecosystem?"
Again, Rove whispered something in the president's ear.
"I don't care about some rinky-dink publisher in Vermont with a series of books about birds around the world," the president said. "What did you say their name was? Selsun Blue?"
Again, Rove whispered something in the president's ear.
"Chelsea Green," the president sighed. "Whatever. I say we bring that bird to its knees, and get back to business."
With that, the president turned away from the lectern and walked into a broom closet.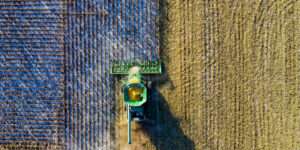 For those who aren't in the know, it may seem like all farmers are created equal, but that's simply not the case. In fact, there is such a wide variety of farmers that it's nearly impossible to put a label on them. But that doesn't stop organizations from trying. The following is an excerpt from…
Read More