November 19th, 2014 by admin
As much as we love pumpkins, sometimes it can be a challenge to figure out how to take advantage of all those nourishing seeds. Packed with rich nutrients such as magnesium, zinc, and plant-based omega-3s, these seeds are certainly worth the extra effort in the kitchen.  If you're tired of the standard roasting drill, try some of the following alternative ways to enjoy pumpkin seeds.
But first, remember to soak your seeds. All seeds, as well as nuts, grains, and beans, have phytic acid and enzyme inhibitors that hinder healthy digestion. According to the authors of The Heal Your Gut Cookbook, Hilary Boynton and Mary Brackett, taking the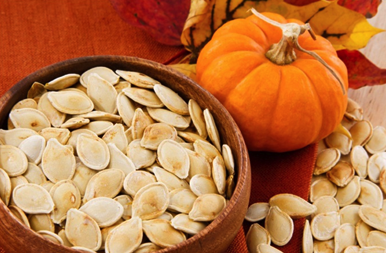 time to soak and dehydrate your raw pumpkin seeds neutralizes these harmful "anti-nutrients." Going through this vital process will not only please your stomach, but also improve nutrient absorption. See the excerpt at the end of this post for step-by-step instructions on how to soak and dehydrate nuts and seeds.
Once you've properly prepared your seeds, put them to good use in a Cilantro and Pumpkin Seed Pesto from Cooking Close to Home or try this Pumpkin Granola recipe from The Heal Your Gut Cookbook.
Granola – makes 1 quart
1/2 cup cashews, soaked
1/2 tsp nutmeg
1/2 cup pecans, soaked
1/2 tsp sea salt
1/2 cup sunflower seeds, soaked
1/2 cup pumpkin puree
1/2 cup pumpkin seeds
1/2 cup shredded coconut (optional)
2 tbsp cinnamon
1/4 cup coconut oil
1 tsp vanilla extract
Pulse all ingredients together in a food processor until a very chunky paste is formed. Spread on your dehydrator's nonstick drying sheet and set at 145°F for 12 to 24 hours, stirring once or twice. (Or spread on a cookie sheet and bake in the oven on its lowest possible setting for 12 to 24 hours, depending on temperature.) Break up granola; store in an airtight container in the fridge.