Wednesday, September 14th, 2011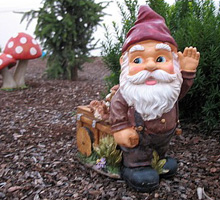 Listen to author Felder Rushing on Naturally Vibrant Living.
In the pursuit of the perfect lawn and manicured, sometimes uniform shrubs and annuals, not to mention vegetables, could something be getting lost? Could we be gardening in an overly intense or pressured way? Diane Brandon is joined this week by Felder Rushing, a decades-long gardener who writes and speaks about gardening, who is also the author of Slow Gardening – A No-Stress Philosophy for All Senses and Seasons. Mr. Rushing's approach could allow you to get the health benefits from contact with the earth, as well as the rewards of gardening, without feeling pressured. It should feed your enjoyment of gardening as well!
Praise for Slow Gardening
"Felder's enjoyment-based approach, which is what I do and teach but didn't have a name for til now, is sustainable gardening at its most enjoyable—without the usual anxiety over doing something wrong."
—Susan Harris, cofounder, GardenRant and founder, Sustainable-Gardening
"Felder knows that if gardening isn't fun, it isn't worth doing. So if 'power gardening' has emptied your wallet and sent your blood pressure soaring like a condor on caffeine, give yourself a break. Try Slow Gardening."
—Steve Bender, Southern Living Magazine