Saturday, March 12th, 2011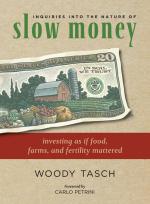 More great news on the local food front (see Tuesday's featured post), this time from Transition Colorado. See the press release below to find out more.
February 2011, Boulder, CO: "As Colorado transitions towards a sustainable future, food will play an increasingly significant role in shaping the local economy," says Michael Brownlee, co-founder of Transition Colorado. "But our best data indicates that of the more than $10 billion Colorado residents spend each year on food, at least 97 percent is imported from outside the state. Very little of what we eat is grown within the state, and just a tiny portion is organic."
This realization has prompted Transition Colorado to commission acclaimed economist and author Michael Shuman to develop a comprehensive assessment of the economic prospects for localizing the local food system, focusing on Colorado's Front Range, and to make specific recommendations for achieving 25 percent food localization in the coming years.
The major goal of the Local Food Assessment and Plan is to create a significant economic development strategy for the region based on the production, processing, and distribution of locally-grown food. The Assessment will outline the framework for developing a resilient and self-sustaining local food economy.
Shuman recently completed a similar study for the 16-county Northeast Ohio region (Greater Cleveland), which showed that, 25% food relocalization by 2020 in that region would create 27,000 new jobs and provide work for one out of eight jobless individuals. Annually, that shift could propel $4.2 billion in additional output, $868 million in additional wages, and $126 million in additional state and local tax revenues.
Michael Shuman is director of research and economic development for the Business Alliance for Local Living Economies (BALLE), author of The Small-Mart Revolution, and lead author of Community Food Enterprise: Local Success in a Global Marketplace, published by the Wallace Center at Winrock International. Shuman will also be a keynote speaker at the "Our Local Economy in Transition" conference in Boulder, Feb. 26 (see www.TransitionColorado.org).
A key strategy in the Assessment will be organizing "affinity groups" around topics of common interest. These groups will contribute to understanding the multitude of viewpoints and ideas around how to advance local food efforts along the Front Range and beyond. Affinity group members will be asked to participate in surveys and discussion topics throughout the duration of the assessment.
Shuman and his on-the-ground team will consider the full-value cycle of a healthy regional food system, evaluating agricultural production, supply chain infrastructure, markets, capacity building, and secondary businesses. The quantitative analysis component of the Assessment will feature the use of the IMPLAN method for evaluating the impact of "import substitution" as a means for economic development through supporting locally-owned businesses. The Assessment will culminate in late 2011 with a final report and public forum on the findings.
The Assessment will complement the recently-completed Northern Colorado Food System Assessment conducted by Larimer, Boulder, and Weld Counties, the Fort Collins Downtown Development Authority and Colorado State University Extension.
Shuman says that the biggest downside on a non-localized food system is economic. "Every time you choose not to be self-reliant in a given good or service, you're giving away business opportunities. So you not only lose the income, wealth and jobs associated with that business, but all of the jobs and income and wealth that would have come from linked businesses, with the so-called multiplier effect as a dollar works its way through the economy from one local business to another. Figuring out how to bring those businesses back into the community is a key strategy for economic development."
Shuman also contends that the number one priority in food localization is local investment in food and farming enterprises. "We need to crack open funds that are being 100 percent invested in non-local business," he says, "and move them into local reinvestment."
—
Transition Colorado is a non-profit organization (501c3) dedicated to building the resilience and self reliance of Colorado communities through the process of relocalization. The organization is establishing an investment fund that will connect local investors with local food and farming enterprises, following the inspiration of Woody Tasch, author of Inquiries into the Nature of Slow Money: Investing As If Food, Farming and Fertility Mattered, and founder of the Slow Money Alliance.
—
Visit TransitionColorado.org to learn more.
Learn more about Woody Tasch and Inquiries into the Nature of Slow Money in our bookstore now.