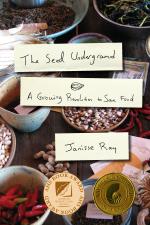 Like this book? Digg it!

Book Data
ISBN: 9781603583060
Year Added to Catalog: 2011
Book Format: Paperback
Dimensions: 6 x 9
Number of Pages: 240
Book Publisher: Chelsea Green
Release Date: June 29, 2012
Web Product ID: 665
The Seed Underground
A Growing Revolution to Save Food
"Traveling about the country to introduce us to some of her devoted fellow seed savers, Janisse Ray teaches us more than we thought we needed to know about seeds: how remarkable they are, why they need saving, how to save them, and how many of them—each holding the future of some particular plant—have been lost and are being lost to our indifference. But in a world where everything we love—including seeds—seems to be under threat, Ray ultimately offers us hope. 'Everything the seed has needed to know is encoded within it,' she assures us, 'and as the world changes, so it will discover everything it yet needs to know.' A poetic, and always hopeful, book."

—Joan Gussow, author of Growing, Older and This Organic Life
"If you haven't heard what's happening with seeds, let me tell you. They're disappearing, about like every damn thing else. . . . But I'm not going to talk about anything that's going to make us feel hopeless, or despairing, because there's no despair in a seed."
— from The Seed Underground
Nautilus Gold Winner: Green Living

Booklist's Top Ten Crafts and Gardening Books of 2012
Silver Award of Achievement from the Garden Writers Association

Across the country, a renaissance of local food, farming, and place-based culinary traditions is taking hold. And yet something small, critically important, and profoundly at risk is being overlooked in this local food resurgence: seeds. We are losing our seeds. Of the thousands of seed varieties available at the turn of the 20th century, 94 percent have been lost — forever.
With a signature lyricism that once prompted a New York Times writer to proclaim her the Rachel Carson of the south, Ray (Ecology of a Cracker Childhood) brings us the inspiring stories of ordinary gardeners whose aim is to save time-honored open-pollinated varieties like Old Time Tennessee muskmelon and Long County Longhorn okra—varieties that will be lost if people don't grow, save, and swap the seeds.
From rural Maine to Oregon's Palouse, Ray introduces readers to dozens of seed savers like the eccentric sociology professor she dubs "Tomato Man" and Maine farmer Will Bonsall, the "Noah" of seed saving who juggles hundreds of seeds, many grown by him, and him alone. And Ray tells her own story—of watching her grandmamma save squash seed; of her own first tiny garden at the edge of a junkyard; of falling in love with heirloom and local varieties as a young woman; and the one seed—Conch cowpea—that got away from her.
With a quiet urgency The Seed Underground reminds us that while our underlying health, food security, and sovereignty may be at stake as seeds disappear, so, too, are the stories, heritage, and history that passes between people as seeds are passed from hand to hand.

US Orders Only.
International Orders: Click here.
Additional Information
Janisse Ray's Upcoming Events
Janisse Ray at Hartland Library


, Hartland VT

June 10, 2013, 6:00 pm

Janisse Ray at Cullowhee Native Plant Conference


, Cullowhee NC

July 19, 2013, 12:00 am

(tentative) Janisse Ray at Middlebury College Cultural Harvest Festival


131 S Main St, Middlebury VT

September 18, 2013, 12:00 pm

Janisse Ray at 2013 Wise Traditions Conference


Weston Price Conference, Atlanta GA

November 9, 2013, 9:00 am