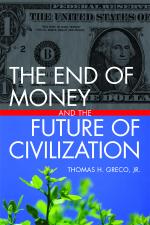 Like this book? Digg it!

Book Data
ISBN: 9781603580786
Year Added to Catalog: 2008
Book Format: Paperback
Book Art: B&W photos, tables, and diagrams
Dimensions: 6 x 9
Number of Pages: 280
Book Publisher: Chelsea Green Publishing
Release Date: April 29, 2009
Web Product ID: 448
Also in Socially Responsible Business
The End of Money and the Future of Civilization
"Tom Greco's The End of Money and the Future of Civilization is essential reading for everyone who yearns to restore sanity to our financial dealings and re-humanize our global economy. Greco details the abuses inherent in the widely misconstrued concept of 'legal tender,' and helps us understand the real roots of the current meltdown. He then offers unique tools for creating workable, enduring solutions. His story is compelling, and his lucid, accessible style makes it a rewarding read. The book's a true game-changer, and its appearance couldn't be more timely."

—Philip H. Beard, PhD, Professor emeritus, Sonoma State University, and co-founder of Sustaining Capital Cooperative, Sustaining Technologies LLC, and Sonoma County GoLocal Cooperative
Like the proverbial fish who doesn't know what water is, we swim in an economy built on money that few of us comprehend, and, most definitely, what we don't know is hurting us.
Very few people realize that the nature of money has changed profoundly over the past three centuries, or—as has been clear with the latest global financial crisis—the extent to which it has become a political instrument used to centralize power, concentrate wealth, and subvert popular government. On top of that, the economic growth imperative inherent in the present global monetary system is a main driver of global warming and other environmental crises.
The End of Money and the Future of Civilization demystifies the subjects of money, banking, and finance by tracing historical landmarks and important evolutionary shifts that have changed the essential nature of money. Greco's masterful work lays out the problems and then looks to the future for a next stage in money's evolution that can liberate us as individuals and communities from the current grip of centralized and politicized money power.
Greco provides specific design proposals and exchange-system architectures for local, regional, national, and global financial systems. He offers strategies for their implementation and outlines actions grassroots organizations, businesses, and governments will need to take to achieve success.
Ultimately, The End of Money and the Future of Civilization provides the necessary understanding— for entrepreneurs, activists, and civic leaders—to implement approaches toward monetary liberation. These approaches would empower communities, preserve democratic institutions, and begin to build economies that are sustainable, democratic, and insulated from the financial crises that plague the dominant monetary system.

Online for US Orders Only
International orders can be placed by phone (802-295-6300) or email
Additional Information
Thomas Greco, Jr.'s Upcoming Events
Thomas Greco Jr. at the Sunbelt World Trade Association


Joel D. Valdez Main Library, Lower Level Meeting Room, 101 N. Stone Ave., Tucson AZ

August 18, 2014, 6:00 pm

Thomas Greco Jr. at the Living the New Economy Convergence


, Oakland CA

October 23, 2014, 12:00 pm

Thomas Greco Jr. at the Institute of Noetic Sciences


101 San Antonio Rd., Petaluma CA

October 30, 2014, 6:00 pm