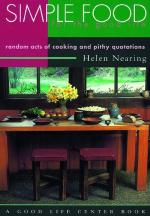 Like this book? Digg it!

Book Data
ISBN: 9781890132293
Year Added to Catalog: 1999
Book Format: Paperback
Book Art: index
Number of Pages: 6 x 9, 309 pages
Book Publisher: Chelsea Green Publishing
Old ISBN: 1890132292
Release Date: January 1, 1990
Web Product ID: 266
Simple Food for the Good Life
Random Acts of Cooking and Pithy Quotations
Excerpt 2
Excerpt from the Foreword by Barbara Damrosch "You're not going to like this book," Helen said, handing me a copy of Simple Food for the Good Life. We had been friends and neighbors since 1991 when I started farming down the road with my husband Eliot Coleman. We visited often and shared several passions, notably books and gardens, but in the kitchen we were different creatures altogether. Helen was the reluctant cook, even-by her own definition-an anti-cook, famous locally for serving her workers and visitors "horse chow," a sort of proto-granola featuring raisins, lemon and raw oats. I, on the other hand, cooked for the sheer pleasure of it, and always tried to spoil Helen a bit when she came over for supper. She ate my gooey lasagnas but pronounced them "rich" and "fancy." One night, shocked that I planned to use only the hearts of the steamed artichokes I was tucking between the pasta layers, she scraped every bit of yumminess from the base of ecery last discarded leaf and added it defiantly to the mixture. As it turned out, I heartily enjoyed Simple Food for the Good Life. The bookworm in me loved the abundant quotes, and I was even drawn to Helen's style of cooking, not in spite of its simplicity but because of it. As a cook she was way ahead of her time. Long before the trumpets started to sound for fresh, organic, whole, real foods, Helen was off in the woods serving them up straight from the garden. And while many current cookbooks pay homage to the idea of starting with good, fresh ingredients, eaten in their proper season, Helen's makes these the entire raison d'être. As such, her book is a touchstone I keep on my shelf to remind myself of what really matters in cooking. I also find myself using Helen's recipes, for she was a better cook than she would admit, with a good instinct for seasonings. Yes, horse chow is in here. But so is an inventive gazpacho flavored with olives, and turnips glazed with maple syrup. There are excellent tricks for thinning and thickening soups, and the idea-new to me-of making a winter succotash from dried lima beans and corn. The book also offers plenty of sound advice about eating for health-advice that applies to everyone, vegetarian or not. She suggests that one should eat something raw at every meal, for example, and choose whole grain dishes over breads and pastas. If you view the Nearings' homesteading books as one long back-to-Eden story, Simple Food is the part in which Eve hands Adam an apple and it improves his digestion. And there was no better testament to the wisdom of her words than a 90 year-old Helen, bouncing around the yard like an irrepressible teenager, bringing in wood, tending the garden. Helen and her husband Scott had a reputation for being very Spartan in all the things they did (including the way they ate), and for their outspoken opinions about the habits of others. To be sure, Helen is at her most curmudgeonly in this volume, but she is also honest about her occasional falls from grace. I can personally attest to her weakness for ice cream, having watched her, during an evening of reading poems together, march unabashedly through every half-full pint in my freezer. It is also clear from reading Simple Food that Helen and Scott took a sensuous delight in the fruits of their gardens and fields and shared them generously with others. Helen did not "entertain," but there was never any doubt that she liked to feed people, and feed them she did, making room at the table for whomever wandered up the road at lunchtime. I myself believe that the "best of times" are spontaneous gatherings, when people turn up and a meal just happens. It is a frequent occurrence at our farm, and at such moments Helen's culinary philosophy always stands me in good stead. Friends suddenly appear. I wash the soil off my hands, goose up the fire in the woodstove, and start to scrabble something together for dinner, asking myself if I have time to make an apple pie for dessert. I inevitably hear Helen's voice saying, "Just put out some apples."