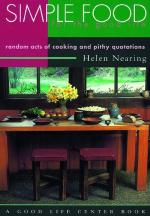 Like this book? Digg it!

Book Data
ISBN: 9781890132293
Year Added to Catalog: 1999
Book Format: Paperback
Book Art: index
Number of Pages: 6 x 9, 309 pages
Book Publisher: Chelsea Green Publishing
Old ISBN: 1890132292
Release Date: January 1, 1990
Web Product ID: 266
Simple Food for the Good Life
Random Acts of Cooking and Pithy Quotations
Excerpt
from Chapter One

I do not cook by a book and do not expect you to. You need never use a cookbook. Nobody taught me how to cook and nobody need teach you. You can do as I did and teach yourself.
My mother, although she was Dutch and might have been brought up as a good housekeeper, was no cook. She barely knew the kitchen in the large mansion back of the Rijks Museum in Amsterdam where her uncle (her foster-father) was a director. At home in New Jersey I remember as a child a succession of Kates and Berthas and Maggies who tended to household affairs. My father (with a European background which led him never to enter the kitchen) and I (always practicing my violin when work had to be done, or so my sister says), accepted food on the table as a natural occurrence and right. the extent of my cooking capacity till my mid-twenties was making popovers as a teen-ager for the family's Sunday breakfast. And that was a spontaneous and gratuitous contribution, as I liked the peace and quiet of early Sunday mornings before anyone else was up. Otherwise, I kept my violinistic hands out of kitchen work. Like many in my spoiled generation in America in the first quarter century, I avoided household chores, and when I became responsible for a household of my own I had little or no experience. . .
It is said that good cooks are born, not made. I was not born a good cook; I did not become one, and I am not one now, but I can feed a large family or dozens of visitors quickly, easily, substantially and economically at the drop of a hat. Six more for lunch, I see, as a car drives up and piles out strangers when we are just sitting down to eat. Add water, tomatoes, onions and parsley to the soup. Put some buckwheat groats on to cook for five minutes. If we're eating salad, add some stalks of celery, some green peppers and knife up an extra head of lettuce. Bring more apples or applesauce from the cellar for a dessert. A dozen unexpected people can sit down to eat an abundant meal in twenty minutes: nothing fancy, but everyone gets filled. There is always enough and to spare. No one need go hungry. Cervantes says, in Don Quixote, "In a house where there is plenty, supper is soon cooked.". . .
I staunchly determined, and tried to stick to it, that any recipes included in my book would be straight from the garden where possible, cooked slightly if at all, at low temperatures to kill fewer vitamins and enzymes, with little added flavoring and the fewest possible dishes, pans and utensils used. The simpler the food, the better. this way of eating involves less preparation, less cooking, easier digestion, more food value, better health, and more money saved.
So, the objective of this book will be: to write on simple food for simple-living people; to pass on to the New World young Americans who are leaving civilized society in droves, ways to sustain and nourish themselves which call for little experience, little time, little money, few ingredients and a minimum of complication.


Winter Soup Hearty and Flavorful
1/2 cup barley, soaked overnight in 4 cups cold water
2 tablespoons butter or oil 2 stalks celery, chopped
2 carrots, diced 2 potatoes, peeled and cubed
2 onions, chopped 2 leeks, sliced
Handful of tender kale leaves, chopped 1/4 cup butter or sour cream
Pinch of nutmeg

Cook the barley and water until tender-a full hour. Meanwhile, heat the 2 tablespoons of butter or oil in a large skillet, and sauté the celery, carrots, potatoes, onions and leeks until tender. Add the vegetables to the barley mixture, along with additional boiling water if a thinner soup is desired. Cook for 5 minutes. Add the kale and simmer for 15 minutes. Just before serving, add the butter or sour cream and the nutmeg.


Lentil Curry
2 cups lentils 1 teaspoon curry powder
4 cups water 3 onions, sliced
3 tomatoes, sliced 1 tablespoon oil
1/4 cup peanut butter 1/4 teaspoon cumin seed or turmeric
handful of chopped parsley

Cook lentils and curry in 4 cups water till lentils are just tender. Meanwhile, sauté onions and tomatoes in oil. Stir both mixtures together. Stir in the peanut butter and cumin. heat and serve with sprinkled parsley.


Gingered Pears
6 pears, peeled 3 tablespoons lemon juice
2 teaspoons powdered ginger 2 tablespoons honey or maple syrup
1/2 cup water 1/2 cup sour cream or plain yogurt

Slice the pears and toss them with the lemon juice, coating well. Place the ginger, honey and water in a small saucepan, and bring to a boil; simmer for 5 minutes. Cool the mixture and pour it over the pears. Serve the pears in individual bowls, topped with the sour cream or yogurt.